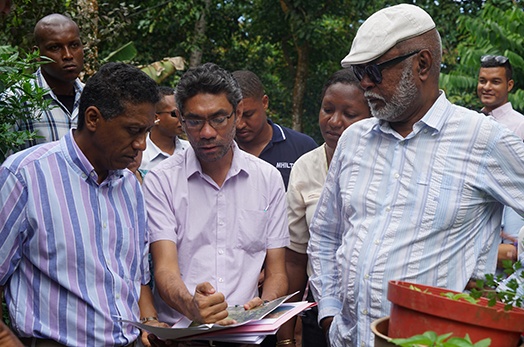 President Faure visits Grand Anse Mahé and Anse Boileau districts
Thu, 28 September 2017
President Danny Faure visited Grand Anse Mahé and Anse Boileau districts this morning as part of his community outreach programme, meeting citizens and listening to their ideas and concerns for the social and economic development of their districts.
In both districts, the President was accompanied by community leaders, representatives of district administration, technicians, and representatives of key services and agencies.

In the Grand Anse district, President Faure visited a road project at La Misere, the Souvenir and Petit Barbarons playing field project, Grand Anse residential flats, the site of the SENPA re-development project for small businesses, families facing housing issues, as well as other special social cases requiring urgent attention.
In the Anse Boileau district the President visited Vilaz Lesperance Residential Estate encountering maintenance, sewage and flooding issues, areas of the district being affected by coastal erosion, and road access projects at Cap St. Marie and Grand Bois Montagne Posée.
Following the visits in both districts, President Faure chaired a meeting at the two community centres where he thanked the district authorities and all members of agencies and services for being present. He urged all partners present to establish good communication links and clear timelines for all decisions taken during the visits, so as to ensure commitments are honoured for the benefit of members of the communities.

Present for the visit was Designated Minister, Minister for Local Government and Home Affairs, Mrs Macsuzy Mondon, Member of the National Assembly for Anse Boileau, Hon. Patrick Pillay, Member of the National Assembly for Gran Anse, Hon. Waven William, Principal Secretary for Infrastructure, Mr Yves Choppy, Principal Secretary for Local Government, Mrs Celine Vidot, Principal Secretary for Public Affairs, Mrs Doreen Arnephy, Principal Secretary for Social Affairs, Mrs Linda William-Melanie, Principal Secretary for Family Affairs, Mrs Marie-Josee Bonne, CEO of Seychelles Land Transport Agency, Mr Parinda Herath, CEO of SENPA, Ms Penny Belmont, NDEA Officials, other representatives of services and agencies, and District Administrators for Grand Anse and Anse Boileau.

For full photo gallery visit State House Facebook Page:
Facebook Page:https://www.facebook.com/StateHouseSey/