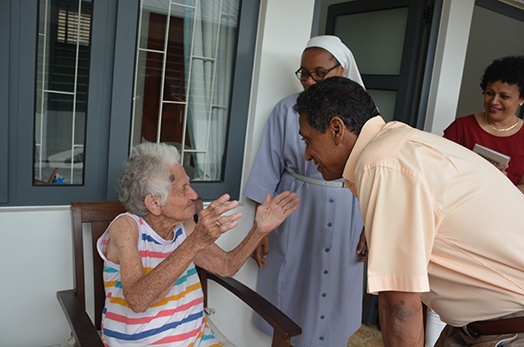 President Faure pays surprise visit to three elderly homes
Sat, 30 September 2017
President Danny Faure visited three homes for the elderly this morning: the elderly home of Mother Teresa Missionaries of Charity, the Foyer Maurice ROH in Victoria, and the Home for the Elderly at Plaisance. 

The President's tour began at Anse Etoile at the Mother Teresa Missionaries of Charity where he spent some time with the sisters of the mission and visited the elderly and disabled in their care. President Faure thanked the sisters for the wonderful work they are doing and pledged the State's full support for any additional assistance they may require.

At the Foyer Maurice, the President received a guided tour of the facilities and living quarters of the residents. He also had the chance to have a chat with some of the elderly who were happy to see him at the home.

President Faure also visited the Home for the Elderly in Plaisance, where he individually met the elderly in their homes to check on their wellbeing and hear their concerns.

Today's visits conclude the President's tour to all regional and district homes for the elderly since taking office. This is part of his agenda to ensure the views and welfare of the elderly are taken into consideration and given priority.
For full photo gallery visit State House Facebook Page: https://www.facebook.com/StateHouseSey/