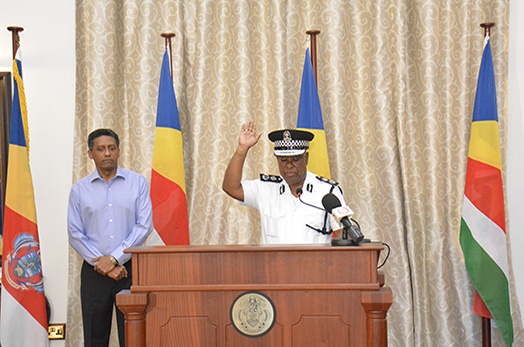 New Commissioner of Police Sworn in
Mon, 09 October 2017
Mr Kishnan Labonte was sworn in as the new Commissioner of Police in the presence of President Danny Faure in a short swearing-in ceremony held at State House this morning.
In accordance with Article 160 (1) of the Constitution of the Republic of Seychelles, on 2 October 2017 the President wrote to the Speaker of the National Assembly to announce the nomination of Mr Labonte as Commissioner of Police. This was approved by the National Assembly on Wednesday 4 October.
During the ceremony Mr Labonte took two oaths: the Oath of Allegiance to the Constitution and the Oath of Office.
Mr Kishnan Labonte joined the Police Force in 1976 and rose through the ranks up to Assistant Commissioner of Police, a position he held for 8 years until his appointment was terminated on the grounds of redundancy. He is an Attorney-at-Law who holds a law degree with honours from the University of London. Mr Labonte was previously State Counsel in the Attorney General's Office, before being appointed as Magistrate, a post he held until February this year when he was appointed as Chief Executive Officer of the National Drugs Enforcement Agency (NDEA).
Present at State House for the swearing-in ceremony was the Vice President, Mr Vincent Mériton, the Speaker of the National Assembly, Honourable Patrick Pillay, the President of the Court of Appeal, Justice Francis Macgregor, the Chief Justice of the Supreme Court, Justice Mathilda Twomey, the Designated Minister, Mrs Macsuzy Mondon, the Leader of the Opposition, Honourable Wavel Ramkalawan, Leader of Government Business in the National Assembly, Honourable Charles DeCommarmond, the Ombudsman, Mrs Nicole Tirant-Gherardi, the Deputy Speaker of the National Assembly, Honourable Nicholas Prea, Secretaries of State, family members of Mr Labonte,  and other distinguished guests.