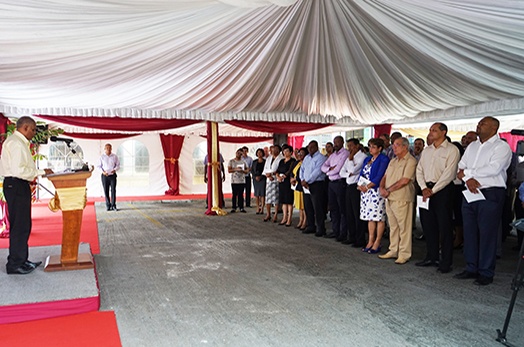 "Gifts of State" Exhibition marks President Faure's one year in Office
Mon, 16 October 2017
An exhibition entitled "Gifts of State" was officially opened this afternoon at the National Library, in commemoration of one year since President Danny Faure took office.
The exhibition features official gifts President Faure has received over the first year of his Presidency and that he has accepted on behalf of the people of Seychelles. The gifts are from other Heads of State, Ambassadors, and dignitaries. It is the first time that such an exhibition of official gifts given to the President has been organised, and made accessible to members of the public.
In the opening address, the Secretary of State for Cabinet Affairs, Mr Mohammed Afif, highlighted the core focus of the presidency during its first year and retraced some of the prominent achievements and decisions effected since October 2016 before officially declaring the exhibition open.
The official opening ceremony was held in the presence of President Danny Faure, Vice-President Vincent Meriton, the President of the Court of Appeal, Justice Francis Macgregor, Designated Minister, Mrs Macsuzy Mondon, Ministers, Commissioner of Police, Mr Kishnan Labonte, the Attorney General, Mr Frank Ally and other distinguished guests.
The "Gifts of State" Exhibition will remain open for public viewing until 31 October 2017 at the National Library from 9.00am to 4.00pm.
To view full photo gallery of Official Opening of Exhibition please visit the State House Facebook Page: https://www.facebook.com/StateHouseSey/
To view Photo Slideshow- Compilation of Souvenir Photos to mark First Anniversary of Inauguration of President Danny Faure: http://www.statehouse.gov.sc/video.php?video_id=65