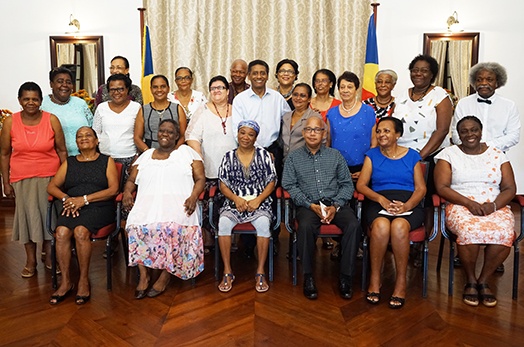 President Faure celebrates retirees for long years of service
Thu, 19 October 2017
President Danny Faure received various groups of retirees from the public service at State House this morning.
The President welcomed the retirees and expressed his honour at hosting such a special group of devoted workers. Addressing the special guests at State House, President Faure acknowledged and conveyed his appreciation to the retirees for their many long years of hard work and devotion to their various professions.
"On behalf of the people of Seychelles and Government, I extend my sincere appreciation for your long years of service. Irrespective of the ministry, sector or field you worked in, you worked hard for your families but most importantly you worked hard for your country. To us, you will always remain examples and beacons of inspiration to our young generation to adopt the same work ethic," said President Faure.
From the Ministry of Education, Mrs Dora Ernesta and Mrs Thecla Arnephy were the two longest serving teachers, both of whom have clocked 53 years of service. Amongst the Ministry of Health officials, Mrs Yvonne Bristol, Nurse Manager at the Blood Transfusion Centre, has served for 45 years, and from the Immigration Department, Chief Immigration Officer, Mr Ronald Fock-Tave has served for 44 years.
During the ceremony at State House, all retirees were presented with a token of appreciation by President Faure and had the opportunity to interact with work colleagues during a brief reception.
For more photos of the visit please visit the State House facebook page:
https://www.facebook.com/StateHouseSey/