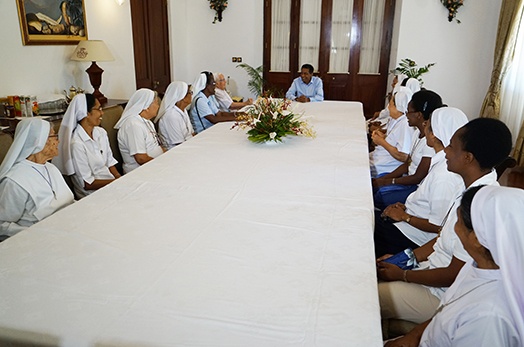 President Faure receives Sisters at State House
Fri, 20 October 2017
President Danny Faure received 15 Sisters at State House this morning from the St. Joseph de Cluny Convent in Victoria, following his visit to the convent last Sunday.
The Sisters received a guided tour of State House and the grounds before having tea with the President. The President discussed the value of human life and looking after citizens, and thanked the Sisters for their hard work over the years. "Thank you for coming, it is always a source of motivation for me each time we meet," said President Faure.
The Sisters' visit to State House follows a request made to see the grounds following the President's visit to the convent a few days ago.
For full photo gallery of the visit please visit the State House Facebook Page:
https://www.facebook.com/StateHouseSey/