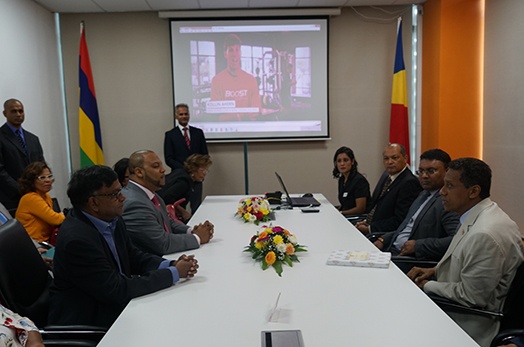 President Faure visits places of cultural interest in Mauritius
Sun, 29 October 2017
President Danny Faure, accompanied by the Minister of Agro-Industry and Food Security Hon Mahen Kumar Seeruttun, visited the EON Reality Mauritius Regional Headquarters and Entrepreneur School yesterday morning.
EON Reality Mauritius is a new company focused on Augmented Reality and Virtual Reality knowledge transfer in Mauritius and the continent of Africa. President Faure congratulated the team for their innovation, and expressed his interest in developing the technology in Seychelles.
The President also visited Le Morne Cultural Landscape and UNESCO World Heritage Site in the afternoon, accompanied by several ministers in the Mauritian Government.
Following his visit to Le Morne Cultural Landscape, President Faure was hosted at a cocktail reception by Mr Guy Fok, the Honorary Consul of the Republic of Seychelles in Mauritius, where he met the 23 Seychellois students currently studying in Mauritius. He encouraged them to keep working hard and fly the Seychelles' flag high.