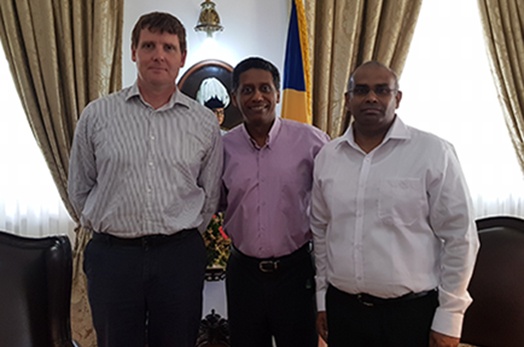 President Faure meets UNODC Head of Global Maritime Crime Programme 
Mon, 06 November 2017
President Danny Faure received the United Nations Office on Drugs and Crime (UNODC) Head of the Global Maritime Crime Programme (GMCP), Mr Alan Cole, at State House this morning. 

Mr Cole was accompanied on his visit to State House by the UNODC Programme Coordinator for the Regional Office for South Asia, Mr Shanaka Jayasekara. 

Discussions focused on various avenues for further cooperation between UNODC and Seychelles. With the long-standing support lent to Seychelles in the arena of piracy and maritime security, some of the new areas discussed with President Faure included assistance with technical support in health for drug rehabilitation, and law enforcement in terms of maritime strategy and intelligence.  

Aside from the drug and maritime security strategy, other projects include reinforcing Seychelles as a maritime law enforcement training centre in the region and support for the implementation of a database for Seychelles Police to improve efficiency of investigations. 

During his mission to Seychelles, Mr Cole will also meet with Designated Minister and Minister for Home Affairs, Mrs Macsuzy Mondon, the Commissioner of Police, Mr Kishnan Labonte, the Coast Guard, and will also visit the Mont Posée Prison. 

Also present for the meeting at State House this morning was Secretary of State, Ambassador Barry Faure, and Diplomatic Advisor to the President, Ambassador Callixte D'Offay.