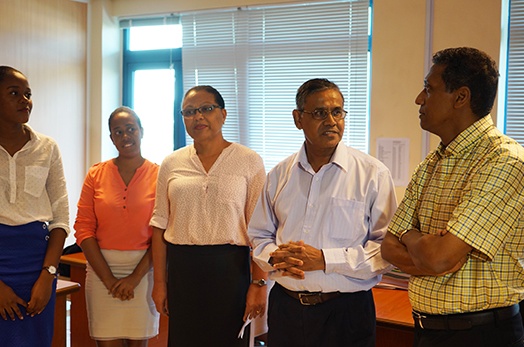 President Faure visits the Office of the Advisory Committee on the Power of Pardon, Auditor General, Electoral Commission, and Anti-Corruption Commission
Fri, 24 November 2017
President Danny Faure visited the Office of the Advisory Committee on the Power of Pardon, Auditor General, Electoral Commission, and Anti-Corruption Commission this morning. Visits to these institutions form part of his weekly visits to workplaces.
Once again he called on everyone to reinforce the value of those institutions enshrined in the constitution and furthermore, to rely on the support of the government.
The President was welcomed at the Advisory Committee on the Power of Pardon by the Chairperson, Mrs Linda William-Melanie, followed by a meeting with another member of the Committee. They briefed President Faure and his delegation on their functions and cases being considered. The members also had the chance to share their constraints with him.
The President highlighted on the necessity for the Committee to sensitise the public on what they do through programmes on the media.
President Faure then proceeded to the Office of the Auditor General where he was greeted by Mr Gamini Herath. He was given a tour of the office and then had the honour to unveil the Auditor General's logo.
The President noted the importance of the Auditor General's office in line with its submissions of annual reports and performance audit, which is vital information for other institutions and decision-making.
The President then continued to the Office of the Electoral Commission. After meeting staff working at the Commission, he held discussions with the Chairman of the Electoral Commission, Mr Hendricks Gappy, and members of the Commission. They raised pertinent issues such as constraints of office space, resources, and the electoral registration among others.
His visit concluded at the Anti-Corruption Commission where he was welcomed and given a tour of the office by the Chief Executive Officer, Ms May De Silva. The President also met with the Board members. Through a presentation, the President was shown the different activities that the Commission is doing at school level to educate students on anti-corruption and the prevention measures required.
President Faure reiterated that the issue of corruption should be tackled and how essential it is for the public to see the importance of the Anti-Corruption Commission and to bring their complaints to that institution.
He was accompanied by the Secretary of State for Cabinet Affairs, Mr Mohammed Afif, Deputy Cabinet Secretary for Institutional Affairs, Mr Johny Bastienne, and Deputy Cabinet Secretary for Policy Affairs, Mrs Margaret Pillay.