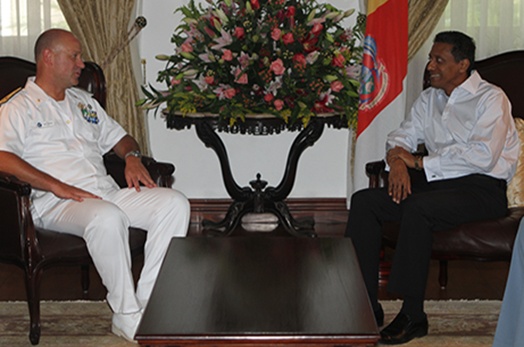 President meets delegation from EU Naval Force Atalanta
Fri, 24 November 2017
The President of the Republic, President Danny Faure, received a delegation from the EU Naval Force Atalanta at State House this afternoon. The Naval Force is currently in Seychelles for joint maritime security interactions with the Seychelles Defence Forces and other maritime forces.
The delegation, led by FCDR Rear Admiral Fabio Gregori, was accompanied by other EU NAVFOR officials and the Italian Consul, Hon. Claudio Izzi.
During discussions, Rear Admiral Gregori briefed the President on the recent operation that led to the successful capture of six Somali pirates intercepted off the coast of Somalia. The pirates have been handed over to Seychelles authorities.
President Faure commended EU NAVFOR for their prompt action and reiterated Seychelles' commitment to strengthening the strong partnership that exists between Seychelles and the EU.
"We are grateful for the work EU NAVFOR has been doing to assist Seychelles. Your presence over the years when the scourge of piracy took a toll on the country has been invaluable, and once again your quick action in the recent operation has sent a strong message. We look forward to further consolidating our strong partnership," said President Faure.
Rear Admiral Gregori also discussed with the President present maritime security exercises being conducted, and plans to intensify and expand the orientation of surveillance in the region to ensure the security of surrounding waters.
Speaking to the local press after the meeting, Rear Admiral Gregori expressed his appreciation to the Government of Seychelles for the support during the recent operation, and emphasised that Seychelles' support is crucial in terms of serving as a deterrent to future offenders.