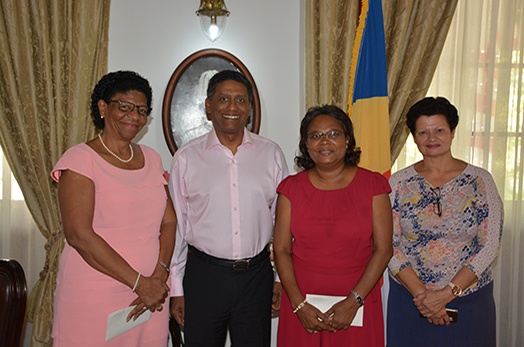 President Faure commends retirees for long years of service in the public sector
Mon, 18 December 2017
The President of the Republic, Mr Danny Faure, received a group of retirees at State House this afternoon: Mrs Merline Volcère, Mrs Florianne Vidot and Mrs Josette Thélermont.
During the meeting, the President extended his heartfelt thanks on behalf of Government and the people of Seychelles to the retirees for their long years dedicated to serving the people of Seychelles.
"It is not always easy to remain in one profession for so many years, but your generation of public servants have set a good example for our young people. It is our hope that the youth joining the work industry adopt the same work culture," said President Faure.
Mrs Volcère has served 43 years in public service, and spent 20 years in the Administration and Finance Department with the Office of the President. Prior to retirement, she served 7 years as the Chief Executive Officer of National Information Services Agency (NISA).
Mrs Vidot has clocked 21 years of service in the public sector, and some of her former positions include Director General of Human Resources and Administration at the Ministry of Home Affairs, and Principal Secretary for Immigration and Civil Status.
Mrs Thélermont joined the public service in 1977 as a police constable. She later worked with Probation Services and was most recently working as the Secretary to the Family Tribunal for the last 9 years. Mrs Thélermont has in total served for over 39 years in the public sector.
Also present for the courtesy visit of retirees was Mrs Yvonia Richardson from the Department of Public Administration
For full photo gallery please visit the State House Facebook Page of retirees meeting the President:https://www.facebook.com/StateHouseSey/