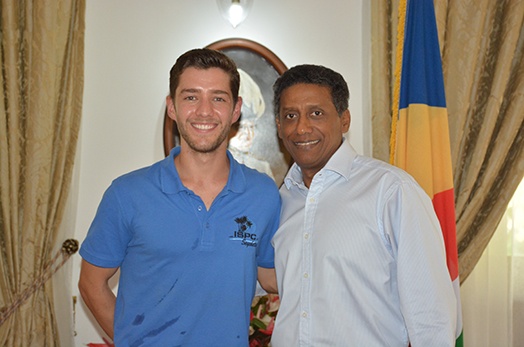 President Faure meets Seychellois Professional Triathlete
Thu, 21 December 2017
President Danny Faure welcomed young Seychellois professional triathlete, Mr Nick Baldwin, at State House this morning.
Mr Baldwin is 29 years of age and has been an triathlete for the past 11 years; 6 years as an amateur and for the last 5 years as a Professional. Currently residing in Perth, Australia, during his visit Mr Baldwin briefed the President on his past achievements, upcoming events, and plans for 2018. During his professional career Mr Baldwin has attained numerous Iron Man World Rankings amongst the top 100. His latest ranking is 71, out of over 500 triathletes.

During the meeting, President Faure commended Mr Baldwin for believing in his dream and working hard to achieve it. He urged him to be a role model and inspiration to other Seychellois youth, in that however daunting Iron Man World Championships can be, Mr Baldwin is proving that with passion, discipline, and hard work anything is attainable.
The President also expressed his appreciation to the young athlete on behalf of the people of Seychelles for raising the Seychelles flag in different corners of the globe whenever he excels at his championships, and making sure that as a small island nation the Seychelles flag continues to fly high.

"I admire your discipline and determination. This is a testament to the fact that despite being a small island nation, we can make great strides in the international arena. We are very proud of your achievements and wish courage and success in your upcoming championships," said President Faure.

Speaking to the Press after the meeting, Mr Baldwin expressed his honour for having been received by the President and formally thanked all the local sponsors who have been supporting him over the years and making it possible for him to compete internationally. He also confirmed that his first objective for 2018 is to increase his focus on running with the goal of competing to win the Seychelles Eco-Healing Marathon 2018.

A triathlon is a competition involving the completion of three continuous and sequential endurance disciplines. While many variations of the sport exist, triathlon in its most popular form involves swimming, cycling, and running in immediate succession over various distances.