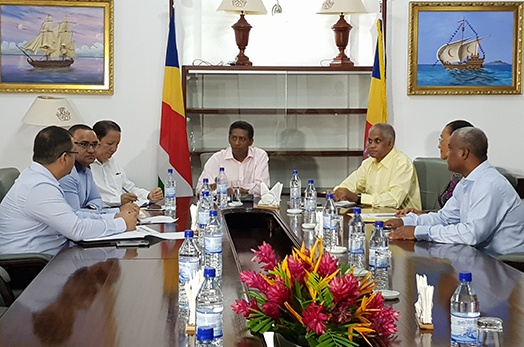 Reinforcing Principles of Good Governance in Management of Public Enterprises and Agencies
Thu, 11 January 2018
President Danny Faure has today reiterated that the principles of good governance, transparency and accountability will be fully exercised, not just within Government Ministries and Departments, but also in all public sector enterprises and agencies.
In a meeting this morning, attended by the Minister of Finance, Trade & Economic Planning, as well as the Chairperson and CEO of the Public Enterprise Monitoring Agency (PEMC), the Cabinet Secretary and the Chief Secretary of the Public Service, the President said that the PEMC, the Department of Public Administration and the Finance Department would work together to ensure that public enterprises and budget-dependent agencies observed the established governance frameworks, and action would be taken in cases of non-compliance.  Internal mechanisms would also be set up to enable communications from Boards to be circulated to all relevant authorities in a timely manner.
The President noted that public sector organisations had recently been accorded greater delegation of authority, and that such delegation also carried increased responsibilities for organisations, as well as accountability for decisions taken.
The President said that 2018 would be a year in which governance and fiscal frameworks – as well as discipline – would continue to be reinforced.  Governing boards should exercise proper guidance and supervision of the functioning of their respective organisations, and the Boards should also keep their respective oversight Ministers briefed on the work of theirs organisations.