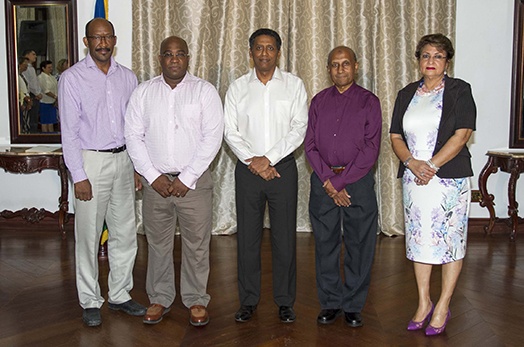 CEO of SMC and CEO of NISA Appointed
Thu, 01 February 2018
President Danny Faure formally presented the Chief Executive Officer of the Seychelles Media Commission (SMC) and Chief Executive Officer of the National Information Services Agency (NISA) with their Instruments of Appointment at a ceremony held at State House this morning.
The CEO of SMC, Mr Ibrahim Afif, is appointed by the President after consultation with the Speaker of the National Assembly and the Chief Justice of the Supreme Court.
Mr Ibrahim Afif is an accomplished media professional who started his career in 1977 as a Programmes Officer at Radio Seychelles. Among his achievements, Mr Afif launched the first FM radio station, Paradise FM, and brought the free-to-air TV5 channel to viewers. In 1992, Mr Afif became the first Managing Director of the newly created Seychelles Broadcasting Corporation. He was instrumental in the transformation of the public broadcasting service at a time when Seychelles was moving from a one party to a multi-party system. He held the post until 2011. Mr Afif was the consultant who set up the Seychelles Media Commission and eventually became its Chairman and CEO in 2011 until 2018, after the SMC Act was amended.
The ceremony at State House also saw the appointment of Mr Gérard Govinden as CEO of the National Information Services Agency (NISA). The Chief Executive Officer of NISA is appointed by the President as per Section 10 of the NISA Act 2010. Mr Govinden holds a Degree in French Writing and Translation from the University of Sherbrooke City in Québec, Canada. He also holds a Masters in Management and Leadership from the Institute of Public Administration, Ireland. He started his career in the media as a reporter with the Seychelles Nation newspaper. Mr Govinden has produced various publications for international sporting events in which Seychelles participated, notably the 18th Commonwealth Games, Olympic Games, All-Africa Games, and the Indian Ocean Island Games. In 2004 he was awarded the Camerapix Mohamed Amin Award for outstanding contribution in the field of media and for Excellence in Journalism. He also won the International Olympic Committee trophy for Sports and Media in the same year. In 2013 he was promoted to Chief Editor of the Seychelles Nation. A year later he was appointed Deputy Chief Executive Officer of NISA, which is the Agency responsible for printing the Seychelles Nation. He has been the Acting Chief Executive Officer of NISA since September last year.
Also present for the ceremony at State House was the Vice-President, Mr Vincent Meriton, the Designated Minister, Mrs Macsuzy Mondon, Principal Secretary for Information, Mr Denis Rose, and Members of the Board of SMC and NISA.