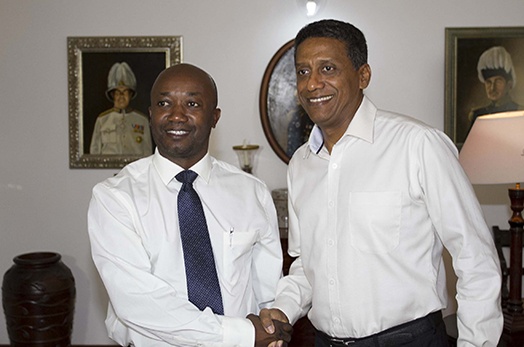 President Faure receives Vice-Chancellor of University of Seychelles
Tue, 06 February 2018
President Faure personally conveyed his congratulations to the new Vice-Chancellor of the University of Seychelles, Dr Justin Valentin, during a courtesy visit at State House this morning.
Dr Valentin was sworn in as the fourth Vice-Chancellor of the University of Seychelles during a convocation ceremony held on 2 February 2018 at the University Campus Anse Royale.
Dr Valentin had the opportunity to brief the President on his role as the new Vice-Chancellor and the priority areas and projects he intends to address upon taking on his new role.
Some of the pertinent issues discussed include converting the University of Seychelles into a National Project with the support of all relevant partners and stake holders, campus re-development offering both local and international students a standardised University life, recruitment of students and University personnel, as well as the creation of a platform to attract more Seychellois into the field of academia and research.
President Faure and Dr Valentin also discussed potential ways of introducing necessary mechanisms to increase minimum entry requirements and performance, which will in return strengthen the quality of results of its graduates.
Prior to his appointment, Dr Valentin was the University's Dean for the Faculty of Business and Law for the past four years.