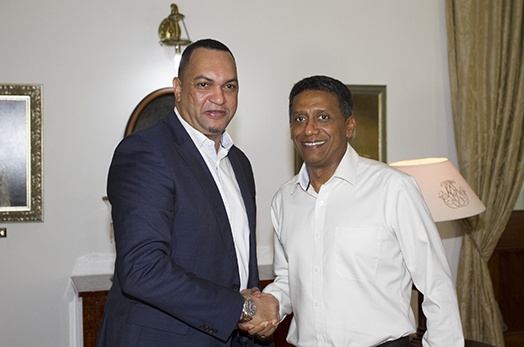 President Faure meets first Seychellois General Manager of IOT
Tue, 06 February 2018
President Danny Faure received Mr Nichol Elizabeth at State House this morning, to personally congratulate him on his recent appointment as the General Manager of Indian Ocean Tuna Limited (IOT).
Mr Elizabeth was previously the General Manager of Thai Union's Ghana Operations since 2008, and has 23 years of experience in the Fast Moving Consumer Goods sector.
"Indian Ocean Tuna Limited is a very important company for Seychelles. With your appointment, I look forward to an improved working relationship between the Government of Seychelles and IOT. We are happy to have a Seychellois as the new General Manager of IOT. Rest assured that you have my support and that of the Government, as we want to see you and the company succeed," said President Faure.
During the meeting with the President, Mr Elizabeth shared his aspirations for IOT and numerous project plans that have been set by the company for long-term participation in Seychelles' economy, including their will to push the Blue Economy forward.
Mr Elizabeth also said that he wishes to increase the number of Seychellois employees working for the company at both low and middle management levels, and make IOT the employer of choice by addressing the misconceptions many locals have about the company.
Speaking to the local press after his meeting with President, Mr Elizabeth said that he is committed to increasing the tonnage produced by IOT. He stated that as the strategic team of Thai Union is in the country to discuss the investment in IOT further, it is expected that by 2025, IOT becomes the biggest factory in the Indian Ocean, other parts of the world, and the most competitive.
"As for investment as Thai Union, we have 25 million Euros for this year of which 8 million Euros is for a new waste water treatment plant, for which I have invited the President to do the grand opening. We also want to discuss further the possibility of expanding the Port of Victoria. Seychelles is the hub for transhipping of fish and we need to make sure that we get enough fish to keep the business going, hence a need for more cold storage facilities," said Mr Elizabeth.
IOT forms part of The Thai Union Group company with factories in Asia (Thailand, Indonesia, and Vietnam), Europe (Portugal, France, Poland, and Norway) and Africa (Ghana and Seychelles).