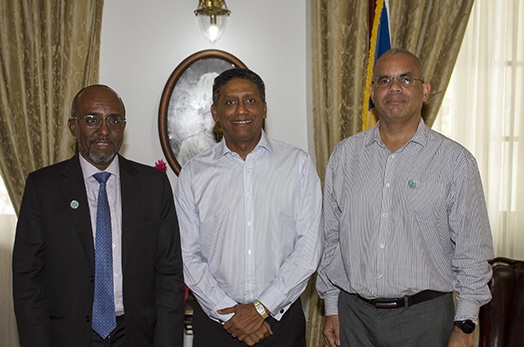 President Faure meets with new Director for Eastern Africa Standby Force
Thu, 08 February 2018
President Danny Faure met with the new Director for Eastern Africa Standby Force (EASF), Dr Abdillahi Omar Bouh, at State House this morning. Dr Bouh is on an official visit to Seychelles where he participated in the 2018 Cutlass Express Symposium and held various meetings with local authorities. He was accompanied by the Head of the Civilian Component at EASF, Mr Steve Lalande.
EASF is a regional organisation whose mandate is to enhance peace and security in the Eastern Africa region.  It is one of the five regional multidimensional Forces of the African Standby Force (ASF) consisting of Military, Police and Civilian components. EASF was established as a regional mechanism to provide the capability for rapid deployment of forces to carry out preventive deployment, rapid intervention, stability operations, and peace enforcement.
The President congratulated Dr Bouh on his new appointment and wished him success in his tenure. He also commended Mr Lalande, whom the President said has made Seychelles proud by working for the organisation.
During the meeting, Dr Bouh shared his vision with President Faure on how EASF can move to a higher level in executing its mandate of enhancing peace and security in the Eastern Africa region. Dr Bouh noted the importance for EASF to have the input of Seychelles on matters concerning stability in the region, especially with regards to maritime security.
"Having the support of the Republic of Seychelles is a clear sign of how important the matters of peace and security are to the Seychellois people. Since its creation in 2004, EASF has found it important to build is capacity in mandatory states. As the new Director, one of the big successes of EASF that I have seen, is bringing people from ten countries together to work together as a team," said Dr Bouh in an interview with the local press.