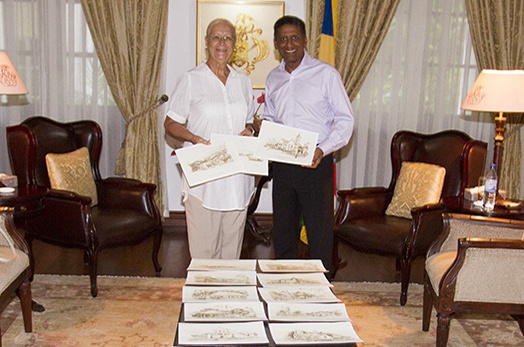 President receives artistic impressions of Old Seychelles from artist Alexandra Azaïs
Thu, 17 May 2018
President Danny Faure received Mrs Alexandra Anaïs, a locally based artist, at State House this morning, who presented him with 30 prints of her drawings depicting Old Seychelles. Mrs Azaïs is the representative of the Sovereign Order of Malta in Seychelles, and also a successful artist.
Mrs Azaïs completed the 30 drawings over 3 months, from a series of old postcards depicting Seychelles in the past. The postcards were given to her by the Special Advisor in the Department of Culture, Mr Emmanuel D'offay. Mrs Azaïs created her artistic impressions of the postcards with ink, and explained that it was an honour for her to recreate the pictures.
President Faure thanked her for her drawings, and for her contribution to the preservation of Seychellois culture and heritage. He also stressed the importance of the arts as a means to keep local history alive.
Mrs Azaïs's prints will be displayed in the National Museum, which will open in October 2018.
To see her drawings, visit the State House Facebook page at the following link: https://www.facebook.com/StateHouseSey/
or via President Danny Faure's Official Facebook Page: https://www.facebook.com/DannyARFaure/