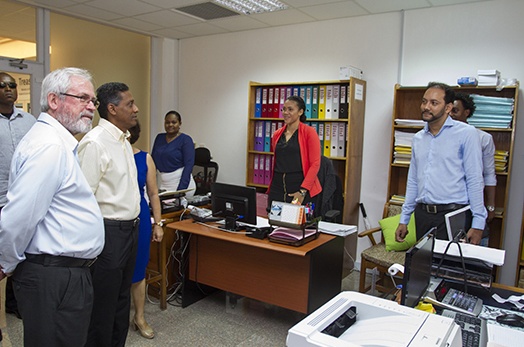 President Danny Faure visits the Ministry of Finance, Trade, Investment and Economic Planning
Fri, 18 May 2018
Continuing his weekly visits to institutions, President Danny Faure visited different Departments under the Ministry of Finance, Trade, Investment and Economic Planning this morning. The President was welcomed by the Minister for Finance, Trade, Investment and Economic Planning, Maurice Loustau-Lalanne, Secretary of State in the Ministry of Finance, Trade, Investment and Economic Planning, Mr Patrick Payet, and Special Advisor for that Ministry, Ms Sitna Cesar.
The President's visit began at the Internal Audit Division at Le Chantier Mall, Victoria where he was given a guided tour by the Chief Internal Auditor, Ms Joan Valmont. He visited the offices of the Principal Auditor, Technician Auditor, Investigation section and Auditors.
The delegation then proceeded to Capital City Building, where the President visited the Treasury in the Ministry of Finance, under the responsibility of the Principal Secretary for Finance, Mr Damien Thesee, which includes the Exchequer Unit and Administration section.
President Faure also visited the Department for Trade in Liberty House, ground floor, under the leadership of Principal Secretary, Ms Cilia Mangroo, where he met staff in the Import/ Export Permit section and Postal Services.
On the second floor, he visited the Department of Economic Planning, where he was given a guided tour of the premises by Principal Secretary, Mrs Elizabeth Agathine.  The Department comprises of the IT Office, Economic Planning Section, Public Budget Management section, centralized account unit, registry, Human Resource section, Policy Section and Debt Management.
During his tour, he was briefed on the status of those departments and the staff discussed existing challenges as well as progress that has been made.
At the end of the visit, the President chaired a meeting with the Minister and his management team. During the meeting, President Faure gave the government' commitment to continue providing training to the staff from the different Departments. He also said that as the country prepares for the national strategic plan, there is need to give more attention to the economic planning. He noted that the Ministry needs to consolidate their relations with the trade and business sectors and the necessity to re-look at certain policies. The meeting also discussed the execution and implementation of finances in Ministries,the  monitoring system, human resource constraints, and other challenges.
President Faure emphasised the need for the Ministry to have a communication plan around major events and instruments to improve and be more proactive towards their partners and the public in general. The President underlined that the Ministry is on the right track with a good technical and management team, and he conveyed his continued support.
For the full photo gallery visit our Facebook Page: https://web.facebook.com/StateHouseSey/