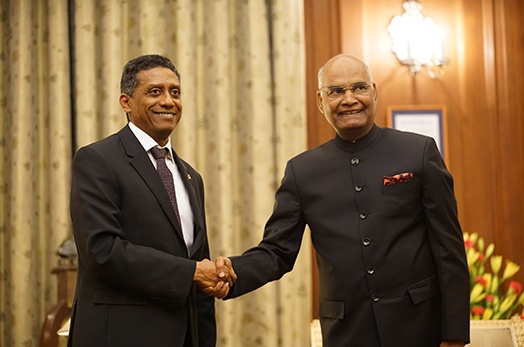 "The close bonds of friendship between India and Seychelles have stood the test of time"
Tue, 26 June 2018
New Delhi, India, 25th June 2018: "The close bonds of friendship between India and Seychelles have stood the test of time," said the President of India, Mr. Ram Nath Kovind as he proposed a toast in honour of the President of Seychelles, Mr Danny Faure, at a banquet held at the Rashtrapati Bhavan during the latter's first State Visit.
President Kovind continued to elaborate: "Since the Independence of Seychelles, our countries have been working together as partners in tackling common challenges, addressing critical issues and strengthening regional and global cooperation frameworks. Our strategic convergence has reinforced the resolve to secure our oceanic space, in the region and beyond. India views the Indian Ocean and the Pacific as a contiguous construct sharing similar economic opportunities and security challenges. Our vision is for a free, open, peaceful, prosperous inclusive indo-pacific region base on a rules-based order and respect for sovereignty and integrity."
In proposing his own toast to the health and prosperity of the everlasting friendship between India and Seychelles, President Faure remarked, "Today, I wish to celebrate this historical and emotional connection with India and give my commitment to work with you to preserve and nurture this unbreakable link of mutual trust and mature friendship between us."
He added, "Our relationships are based on a profound understanding and appreciation of each other's concerns. We share vested interests in our common oceanic space and subscribe to the doctrine of security and growth for all in the region."
"We share a common development cooperation outlook based on South-South cooperation and the principle of international solidarity. We believe in a world of peace, equity and a rules-based international order. We are friends and partners, standing together to face common challenges. We greatly value this friendship."
The banquet was attended on the Indian side by Prime Minister Modi and other senior leaders and representatives of all branches of government. The President's delegation at the banquet also comprised of the various Ministers and high government officials as well as various leaders of the private sector and civil society.
Editor's note:
Full speech of President Faure can be seen from the link: http://www.statehouse.gov.sc/speeches.php?news_id=4001
To view more photos please visit the State House Facebook Page via link below:
https://www.facebook.com/StateHouseSey/photos/rpp.586396861428269/1796328980435045/?type=3&theater