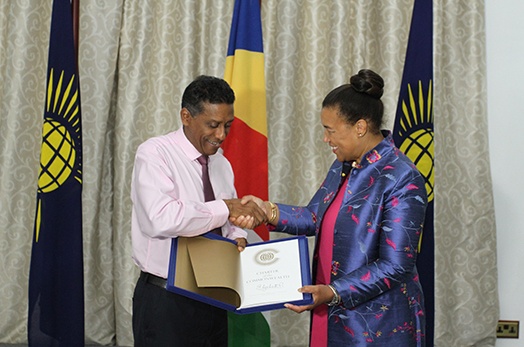 President Faure receives Secretary-General of the Commonwealth
Thu, 28 June 2018
President Faure receives Secretary-General of the Commonwealth

The President of the Republic, Mr Danny Faure, welcomed the Secretary-General of the Commonwealth, the Right Honourable Patricia Scotland, at State House yesterday afternoon. Secretary-General Scotland arrived in Seychelles yesterday for an official visit geared toward further enhancing cooperation between Seychelles and the Commonwealth. She is also the Guest of Honour for the 42ndAnniversary of Seychelles' Independence Day celebrations, to be commemorated on 29th June.

Following a tête-à –tête with President Faure, Secretary-General Scotland presented President Faure with a copy of the Commonwealth Charter signed by the Queen of England.

The exchange took place in the presence of Vice-President, Mr Vincent Meriton, Designated Minister and Minister for Local Government and Home Affairs, Risk and Disaster Management Department, Youth, Sports and Culture, Mrs Macsuzy Mondon, the Minister for Health, Mr Jean-Paul Adam, Minister for Finance, Trade and Economic Planning, Ambassador Maurice Loustau-Lalanne, Minister for Education and Human Resource Development, Mrs Jeanne Simeon, and Ambassador Derick Ally, High Commissioner of Seychelles in London.

While at State House, Secretary-General Scotland also attended a bilateral meeting chaired by Vice-President Meriton to further discuss existing and potential areas of cooperation set to deepen and consolidate the ties between Seychelles and the Commonwealth.