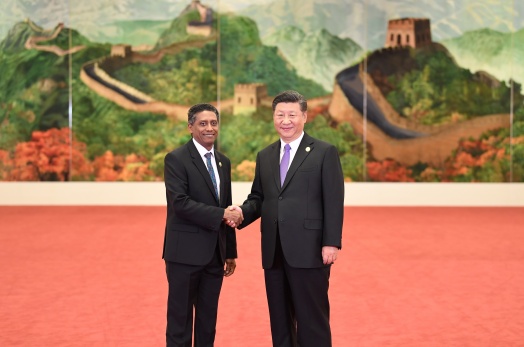 President Faure addresses leaders at 2018 FOCAC Summit
Tue, 04 September 2018
Beijing, China: President Danny Faure addressed the leaders present at the Roundtable Meeting, on the final day of the 2018 Forum on China-Africa Cooperation (FOCAC) Summit, at the Banquet Hall of the Great Hall of the People today.
In his remarks, the President said, 'China has always understood the specificities of Seychelles and the complex challenges that face Small Island States. The announcement made by President Xi yesterday demonstrates his commitment to tackling the development challenges of our time, exemplified by China's pledge of 60 billion US Dollars to Africa for the implementation of the FOCAC Beijing Action Plan over the next 3 years.
For Seychelles, as a Small Island Developing State, we are very pleased to note the inclusion in the Action Plan of financing and enhanced collaboration in fields such as the Blue Economy, green development plans, and climate change, amongst others. We are very happy that the Beijing Action Plan 2019-21 reflects sustainable development strategies for the ocean state,' said President Faure.
The President also conveyed to fellow leaders present how Seychelles started the year by pioneering a Blue Economy Strategic Policy Framework and Roadmap, which represents the next frontier of development for the country. The Blue Economy involves ocean-based sustainable development, with a focus on economic diversification, shared prosperity, food security, and healthy and productive oceans.
The end of the Summit saw the adoption of both the Beijing Declaration, 'Toward an Even Stronger China-Africa Community with a Shared Future', and the FOCAC Beijing Action Plan (2019-21).
Since its inception in 2000, FOCAC normally takes place every 3 years. FOCAC has become the main mechanism that coordinates bilateral cooperation and funding for projects between China and African countries.
This year's Summit was attended by over 50 Heads of State from African countries, together with President Xi Jinping, President of the People's Republic of China, Mr Antonio Guterres, Secretary-General of the United Nations General Assembly, and Mr Moussa Faki Mahamat, Chairperson of the African Union Commission.