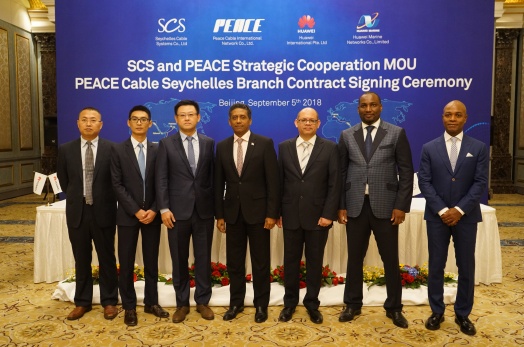 President Faure witnesses signing of agreement for Seychelles' second submarine cable
Wed, 05 September 2018
Beijing, China: President Danny Faure witnessed the signing of contractual documents by the Seychelles Cable Systems Co Ltd (SCS) with Huawei Marine Networks, Peace Cable International Networks, and Huawei International, at the Legendale Hotel in Beijing this morning. Work on the milestone project is expected to start in 2019, with completion in 2020.
SCS is comprised of the Seychelles Government and the two main telecom providers in Seychelles, Airtel and Cable and Wireless. Seychelles is presently connected by one submarine cable system, SEAS (Seychelles East Africa System), built by SCS in 2012. This new contract will allow Seychelles to also be connected to the PEACE (Pakistan East Africa Cable Express) System, thereby ensuring the security of connectivity for the country.
Mr Ben Choppy, Principal Secretary of the Department of ICT and Chairperson of SCS, delivered the opening remarks at the ceremony, saying, "This is historic for the Seychelles since it marks the start of achieving one of its strategic national infrastructure projects. With the second submarine cable link to the country, we achieve our long-desired goal of security in our international telecommunications link. Connectivity to the rest of the world is indispensable for a small island developing state like Seychelles."
"SEAS links Seychelles to mainland Africa and it was also built by SCS in 2012. This time, by joining PEACE, Seychelles will not only be linked to Africa and Asia but also directly to Europe, which is very beneficial. It is good for us and it is also good for the PEACE cable initiative. It is a win-win for us all. It is also opportune that the signature of this contract takes place during the time that the Forum on China-Africa Cooperation is taking place in Beijing. The signing today represents a good example of South-South cooperation between businesses from both Africa and China," concluded Mr Choppy.
On his part, the CEO of Huawei Sri Lanka, Mr Shunli Wang, said that the agreement with SCS fits perfectly with Huawei's vision and mission of digital connectivity for the world. "Huawei is committed to bringing connectivity to every home, including the beautiful Seychelles, and we are very excited to see the benefits that this project will bring."