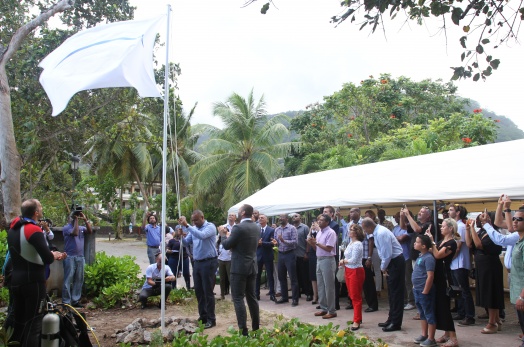 Seychelles awarded with its first White Flag Certified Safe Marine Area
Sat, 08 September 2018
President Danny Faure was the guest of honour at Seychelles' first White Flag Certification award ceremony held at the Beau Vallon Promenade this morning.
White Flag Certified Safe Marine Areas (CSMAs) represent the world's purest and cleanest water bodies that have been physically cleaned from plastic and other marine debris. Since its launch in Monaco in 2012, Whiteflag International has become a leading symbol representing clean, plastic-free zones for inhabitants and tourists, and also marine life.
The first White Flag to the Republic of Seychelles was awarded to President Faure by Mr Kristijan Curavic, the president of the Ocean Alliance Conservation Members (OACM), in the presence of Vice-President Vincent Meriton and Hon Nicholas Prea, Speaker of the National Assembly. This declares Seychelles as an official member of OACM, a testament to the importance Seychelles places on environment protection both locally and internationally, and follows from President Faure's participation at the "Our Oceans Conference" in Malta in 2017.
Speaking at the ceremony, the Minister for Environment, Energy and Climate Change, Mr Wallace Cosgrow, highlighted the different measures that the Government of Seychelles is undertaking to reduce or ban the use of plastic materials. He thanked all partners involved in helping to eliminate plastic pollution and marine debris.
"In Seychelles, we have long recognised the connection between our environment and tourism, and the need to promote both sustainably. We need to continue striking the right balance between tourism development and environmental protection through our policies. Protecting our oceans is not only important for our tourism industry but vital for our livelihood and survival," said Minister Cosgrow.
Whiteflag international has developed a financing system which allows contributions to countries that are implementing national laws and are committed to environmental protection in the tourism sector. Following its award as a Certified Safe Marine Area (CSMA), Seychelles will now be eligible for financing to develop more sustainable tourism practices.
Before leaving the country, Mr Kristijan Curavić and his team will be assessing other islands in Seychelles.
Also present at the ceremony was the Minister for Tourism, Civil Aviation, Ports and Marine, Mr Didier Dogley; Minister for Finance, Trade, Investment and Economic Planning, Mr Maurice Loustau-Lalanne; Minister for Habitat, Infrastructure and Land Transport, Mrs Pamela Charlette; Honourable Members of the National Assembly, General Managers from establishments along the Beau Vallon beach; representatives from Civil Society and other dignitaries.