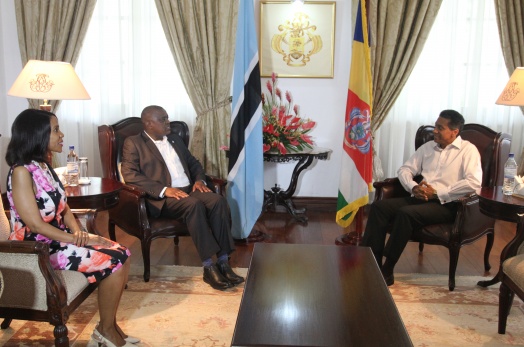 President Faure receives the President of the Republic of Botswana
Sat, 08 September 2018
President Danny Faure welcomed the President of the Republic of Botswana, Mr Mokgweetsi Masisi, and the First Lady of Botswana, Mrs Neo Masisi, at State House this morning. President Masisi and his delegation are on transit in Seychelles following their return from the Forum on China Africa Cooperation Summit in Beijing.
President Faure held bilateral talks with President Masisi and the First Lady in a tête-à-tête, which the President described as very productive. "Your visit here today demonstrates the excellent ties of friendship between our two countries, and we are very pleased to hear that Botswana will assist us with capacity building and strengthening our institutions," said President Faure.
On his part, President Masisi spoke of his strong personal relationship with President Faure and the willingness of Botswana to collaborate further with Seychelles in fields such as education, transport, and trade. Seychelles and Botswana will sign a general framework of cooperation at the upcoming Extraordinary African Union Summit in November this year.
This is President Masisi's second visit to Seychelles this year.