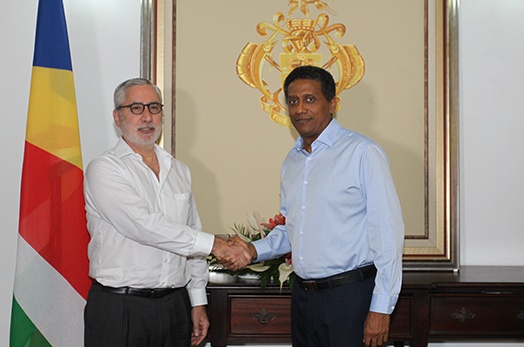 New Ambassador of Argentina Accredited
Wed, 12 September 2018
The new ambassador for the Republic of Argentina to Seychelles, H.E. Mr. Martín Gómez Bustillo, presented his credentials to President Danny Faure at State House yesterday.
President Faure congratulated the new Ambassador and acknowledged the high importance that Seychelles attaches to improving its relationship with the Republic of Argentina.
During their meeting, President Faure and Ambassador Bustillo discussed possible avenues of cooperation in the areas of agriculture, tourism, arts and culture, sports and environment.
The Republic of Seychelles and the Republic of Argentine established diplomatic relations on 2 October 1986.  Ambassador Bustillo will be based in Nairobi.
Also present at the accreditation ceremony from the Department of Foreign Affairs was Ambassador Selby Pillay, and First Secretary/Acting Director General Foreign Policy, Department of Foreign Affairs, Ms Patsy Moustache.