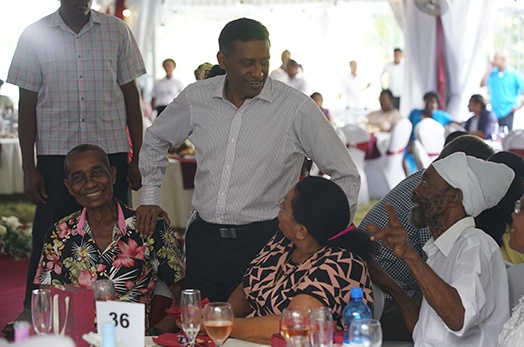 President Faure hosts reception for Senior Citizens to mark International Day for Older Persons
Mon, 01 October 2018
President Danny Faure hosted a reception for senior citizens at State House this afternoon, to mark the International Day for Older Persons, commemorated worldwide on 1 October.
The United Nations International Day for Older Persons (UNIDOP) 2018 theme is 'Celebrating Older Human Rights Champions'. It aims to promote the rights enshrined in the Universal Declaration of Human Rights for older persons and raise the visibility of older people as participating members of society. The theme also invites reflection on the progress and challenges in ensuring full and equal enjoyment of human rights and fundamental freedoms by older persons.
At the event, the President expressed his great pleasure at hosting members of the elderly community at State House and thanked them for their contributions in the development of Seychelles. He reiterated the government's commitment to continue in their efforts to cultivate peace, stability, national unity, and dialogue in the country.
President Faure also expressed his wish for all leaders and all citizens in the country to resist any provocations that can affect the tranquillity and peace in the country.
The gathering at State House included elderly from all the districts in Seychelles as well as those living in Regional Elderly Homes. The reception was animated by colourful artistic and cultural performances by the senior citizens and young performers. The Seychellois band 'Leve Tradisyon' provided live traditional music for the guests present to dance.
The celebration was attended by the Vice President, Mr Vincent Meriton, the Speaker of the National Assembly, Hon. Nicholas Prea, the President of the Court of Appeal, Justice Francis Macgregor, the Designated Minister, Mrs Macsuzy Mondon, the Leader of Government Business in the National Assembly, Hon. Charles Decommarmond, the Cabinet of Ministers, Members of the National Assembly, and other distinguished guests.
For the full photo gallery visit State House Facebook Page: https://web.facebook.com/StateHouseSey/photos/pcb.1940058789395396/1940057139395561/?type=3&theater