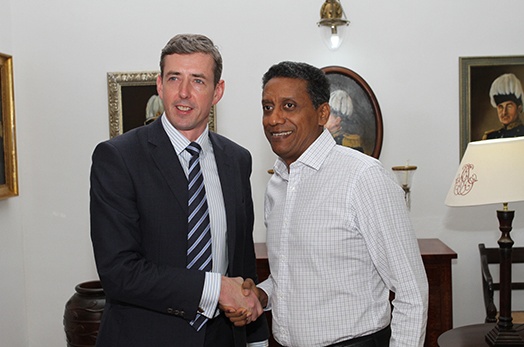 Courtesy Call by Head of Oceans and Natural Resources at the Commonwealth Secretariat
Tue, 09 October 2018
President Danny Faure received the Head of Oceans and Natural Resources at the Commonwealth Secretariat, London, Dr Nick Hardman-Mountford, at State House today. Dr Hardman-Mountford and his delegation are in Seychelles to attend the workshop on Seychelles Blue Economy Strategic Policy Framework and Roadmap Launching and Micro, Small and Medium enterprises development (MSME's) Round Table Side Meetings.
In welcoming Dr Hardman-Mountford and his delegation to Seychelles, the President thanked the Commonwealth for the support provided to develop the blue economy sector in Seychelles, which unlocks the benefits of ocean resources, especially the attention given to the Small Island Developing States (SIDS.)
"I believe that the Commonwealth Secretariat is a believer of the Small Island Developing States and if today within the international forum, there is recognition of one's small states, it is because the Commonwealth Secretariat has played an important role. You have been in the position to understand the vulnerability of the Small Island Developing States. Today, more people understand the concept and vision of the Blue Economy and what is important is how we are going to make it work," said President during the meeting.
The Commonwealth Secretariat has been assisting the Government of Seychelles to validate and implement the Blue Economy Strategic Roadmap in support of Seychelles to be a more integrated ocean-based economy.
At the meeting with the President today, Dr Hardman-Mountford and his delegation discussed lengthily on the two days' workshop being coordinated by the Blue Economy Department, which is expected to see the participation of all government officials and private stakeholders involved in the Blue Economy. The President also shared his vision on the Blue Economy ahead of the meetings.
In an interview with the press after the meeting, Dr Hardman-Mountford stated that "Seychelles has been a world leader in developing the Blue Economy movement. Seeing what that means and how the oceans can sustain our economies as well as being looked after in a sustainable way; this is what the Blue economy is all about. In commenting on the importance for Seychelles to champion the blue economy agenda, he remarked: "a small island like Seychelles with a huge ocean space; the ocean is your economy, so understanding how to use it sustainably and to make the most of the resources it offers, is critical to the development of Seychelles".
Also present at the meeting this morning was the Principal Secretary for the Blue Economy, Mrs Rose-Mary Bargain, Special Advisor (The Blue Economy), Mr Phillip Michaud and Economic Advisor to the President, Mr Bertrand Belle.