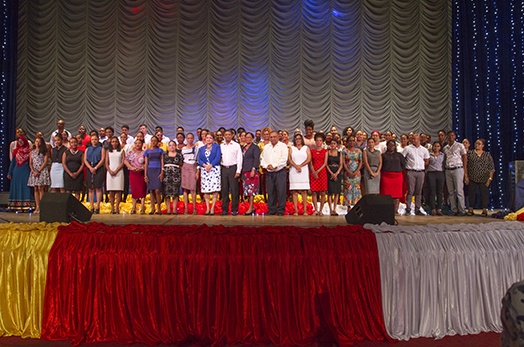 President Faure attends ceremony for graduates: Class of 2017 – 2018
Wed, 07 November 2018
President Danny Faure was the guest of honour at a gathering for graduates to honour and acknowledge the achievements of former scholars that have graduated from October 2017 to September 2018. The ceremony was held at the International Conference Centre yesterday afternoon.
The graduates have successfully completed courses, both locally and internationally, in various fields such as health, education, finance, tourism, civil engineering, and medicine among others.
Compared to last year, this year has seen a greater number of graduates that have excelled academically with First Class Honours, Valedictorian award, and other notable accolades.  From October 2017 to September 2018, a total of 219 graduates completed their studies. Out of this number 136 students pursued their studies locally and 83 overseas.
A total of 150 students have graduated with a Bachelor's degree, 42 with a Master's degree and 2 with a Doctorate degree. The rest have graduated in special courses based on the needs of the country, such as Licences or Post-graduate certifications.
The ceremony was also attended by the Speaker of the National Assembly, Honourable Nicholas Prea, Designated Minister Macsuzy Mondon, Ministers, members of the diplomatic corps, Principal Secretaries and CEOs, Board members of the Agency for National Human Resources Development, and families of graduates.