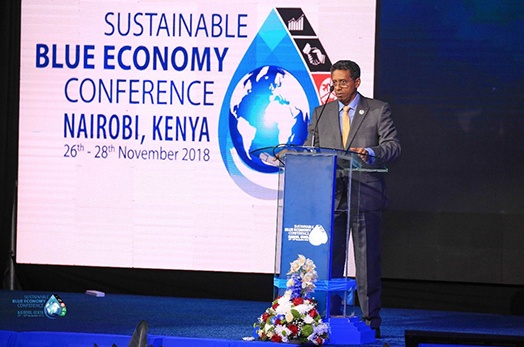 President Faure addresses the Global Conference on Sustainable Blue Economy
Tue, 27 November 2018
Nairobi, Kenya: The President of the Republic of Seychelles, Mr Danny Faure, addressed other Heads of State and high-level representatives of Government at the Leaders Commitment Segment, at the Kenyatta International Convention Centre, where the Global Conference on Sustainable Blue Economy started yesterday.
In his speech, President Faure congratulated Kenyaand co-hosts Canada and Japan for organizing this event in preparation for the 2020 Ocean Conference. He highlighted Seychelles' commitment to elevate the Blue Economy to the top of the global development agenda, especially in Africa.
"As Champion for the Development of the Blue Economy in Africa, announced at the AU Extraordinary Summit in Addis Ababa last week, I am proud to commit to doubling Seychelles' efforts to work with all AU member states and partners to fully integrate the Blue Economy across all our policies and programmes in Africa," said President Faure.
"The hosting of this conference in Kenya is further evidence that Africa is beginning to make its presence felt in the growing worldwide movement to develop the Blue Economy. This Conference showcases the importance for the African continent to seize the rich opportunities that the Blue Economy offers us. We can confidently say today that Africa has firmly placed the Blue Economy on its development agenda," said the President.
Some 58 Seychellois stakeholders from various Blue Economy sectors are participating in this event, comprising of government officials, the business sector, research institutions, and civil society, amongst others.
"For Seychelles, the Blue Economy represents the next frontier of development. Considering our growing capacity need on this vital sector, Seychelles commits to training more women to join the Blue Economy and related maritime sectors", he said.
"As we sail towards a sustainable blue economy anchored in a healthy ocean, this Conference is prime opportunity for all of us to gather our collective efforts and capitalise on the opportunities that exist within the Blue Economy in Africa and beyond – for the benefit of our people, and future generations," he said in closing.
The full speech by President Faure can be viewed at the following link:
http://www.statehouse.gov.sc/speeches.php?news_id=4212