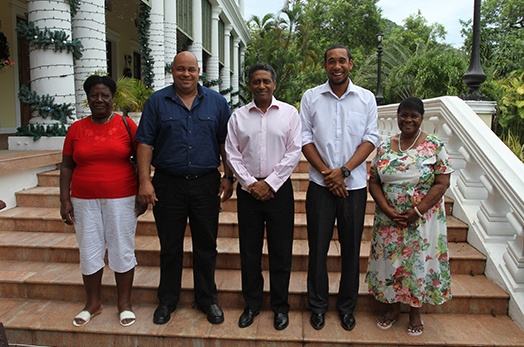 Award-winning Seychellois entrepreneurs meet President Faure
Fri, 28 December 2018
President Danny Faure received the winners of the Seychelles Chamber of Commerce and Industry (SCCI) Business Awards at State House this afternoon, including Entrepreneur of the Year 2018, Mr Jean-Pierre Morin, Young Entrepreneur of the year 2018, Mr Nelson Renaud, and Recognition Award recipients, Mrs Marie-Ange Rose and Mrs Julita Bristol.
Mr Morin is the General Director and owner of Rosebelle. He has been the head of the company since it opened its first butcher's shop at Anse Des Genets, Pointe Larue in 2010. He received his prize at the SCCI Business Awards 7th annual event to reward businesses and entrepreneurs who possess vision, innovation, entrepreneurial drive, leadership, individuality, and tenacity.
The annual business awards saw the introduction of a brand new award this year which seeks to celebrate the determined and driven females in the local business community.
President Faure congratulated the award recipients on their achievements and expressed how happy he was to have met the four hard workers. He stressed the importance of commitment, good discipline and strong values for success. The President also commended Mrs Rose and Mrs Bristol for their long years of service, as they have been working for over 63 years. Mrs Rose and Mrs Bristol are 77 years old and 75 years old respectively.
During their discussions with the President, the entrepreneurs shared with him their challenges and potential solutions in order to move forward in each of their respective fields of work. They also expressed their commitment to continue inspiring those around them, particularly young entrepreneurs.
Speaking to the national media, Mr Morin said that through the challenges in business, one should always stay focused and remain determined to reach their goals.