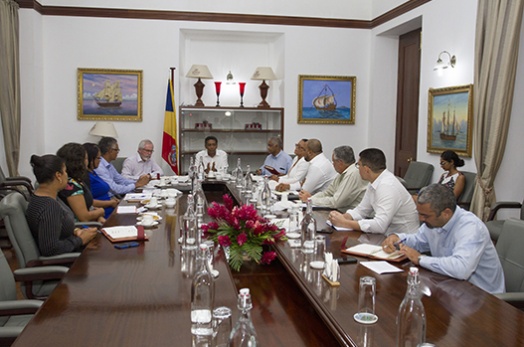 President Faure chairs meeting with STC Board Members
Thu, 10 January 2019
The President of the Republic, President Danny Faure, chaired a meeting with the Board of Seychelles Trading Company (STC) at State House this morning.
President Faure began by noting the importance of STC for the country and their critical mandate to provide long-term food security for all Seychellois and ensure that basic commodities are accessible and affordable. He commended the Board and staff of the STC for the remarkable progress that they have made in upholding key principles of transparency, good governance and accountability. He encouraged the company to continue their hard work, and maintain a 6 month stock of essential commodities.
During the meeting, members of the Board appraised the performance of STC for the year 2018, and their strategic and development plan for 2019. The plan includes the development of new infrastructure, capacity building opportunities for their staff, and opportunities for young graduates. STC is also exploring the possibility of adding new commodities to the category of goods which are cross-subsidised. Members of the Board also shared with the President their specific strategies to ameliorate their service delivery on Mahé, as well as on Praslin and La Digue.
The Chairperson of the Board, Mr Guy Morel, noted the need for STC to better communicate how STC balances price with the highest quality of goods, to ensure that their customers receive the best-quality product. He said that STC works hard to provide affordable goods whilst maintaining commercial viability, and works closely with local industries. STC trades more than SCR36 million rupees a year with local farmers and works hard to support the local agriculture sector.
Also present at the meeting was the Minister of Finance, Trade, Investment and Economic Planning, Mr Maurice Loustau-Lalanne, Chief Executive Officer of STC, Ms Christine Joubert, Deputy Chief Executive Officer of STC, Mrs Marie-France Hansen, and other Board members.