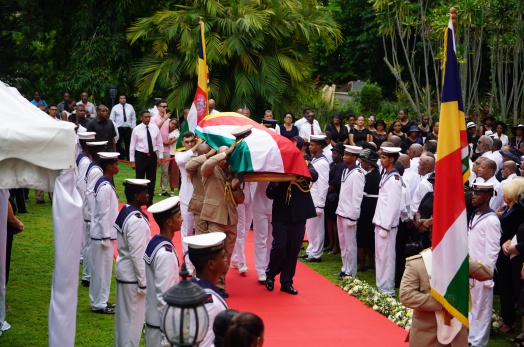 Former President René Lies in State at State House
Thu, 07 March 2019
Approximately 500 invited guests paid their respects to former President France Albert René this morning, as his body lay in state at State House.
In the presence of President René's family and friends, members of the Cabinet, members of the Diplomatic Corps, and Government officials honoured the second President as his flag-draped casket entered State House.
The President of the Republic, Mr Danny Faure, received the casket and followed the procession into State House, followed by Madame René, the Vice-President, former President James Michel, the Designated Minister, former Minister Sylvette Pool, President René's children and members of the Cabinet.
Members of the National Assembly, Justices of Appeal and Judges of the Supreme Court, and former Cabinet Ministers were also in attendance. Acting President of the Republic of Mauritius, Mr Paramasivum Pillay Vyapoory, was also present to pay tribute.
President Faure declared a national day of mourning today. Flags on public buildings are flying at half-mast.
The ceremony this morning included a 21-gun salute with full military honours.
For full photo gallery, please visit the State House Facebook page here.