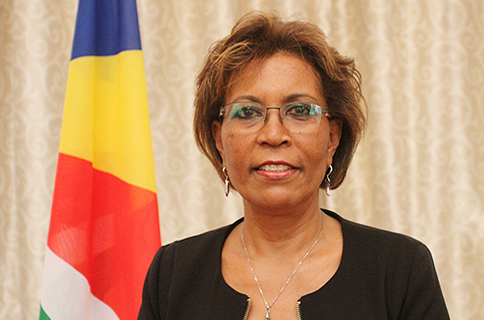 Aude Labaleine
Aude Labaleine was born in Victoria, Mahe, Seychelles, on 10th March 1960. She has served as the Secretary of State for Presidential Affairs since October 2016. She is married with one son.
She completed her primary and secondary studies at Regina Mundi Convent School and St Clare School respectively. She briefly joined the tourism sector before she was recruited in 1979 by the ruling political party Seychelles People's Progressive Front (SPPF) as a Documentation Officer.
In 1980, she joined the Seychelles Housing Development Corporation as a Housing Officer. She returned to work for the SPPF party in 1981 where she was appointed as Party Coordinator.
In 1989, Aude studied for an Advanced Diploma in Political Sciences at the Moscow Institute of Social Sciences. Upon her graduation in 1991, Aude was promoted to Public Relations Officer of the SPPF party, where she coordinated campaign and promotional work for the first multi-party legislative and presidential elections in 1993.
In 1993, Aude was appointed Coordinator for Communication and Research of the SPPF party, and held this post until 1998 when she was appointed as the Personal Assistant to the Minister for Education and Youth at the time, Danny Faure.
Aude continued to be Danny Faure's Personal Assistant throughout his tenures as Designated Minister (2006 – 2010), Minister for Education (2004 – 2006), and Minister for Finance and Trade (2006 – 2010).
In 1995, she completed a Diploma in Management at the Seychelles Institute of Management, and in 1998, she received a Diploma in French Language from the Alliance Française des Seychelles.
Prior to her appointment as Secretary of State for Presidential Affairs, she served as the Director General for the Vice-President's Office from July 2010.
Aude Labaleine was appointed Secretary of State for Presidential Affairs on 16th October 2016.