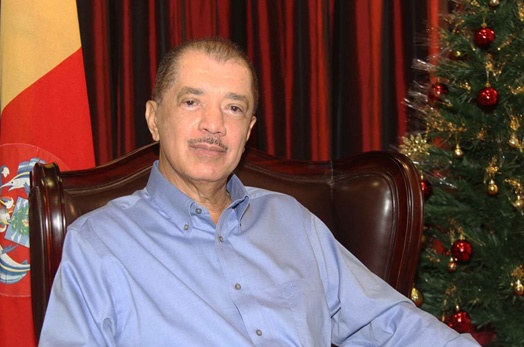 2013: We "Continue Striving for Seychelles"
Mon, 31 December 2012
President James Michel has declared that 2013 will be the year for "Striving for our Seychelles," as a continuation of the 2012 theme, in order to reinforce the work that has been achieved and to overcome the challenges of the continued global recession. 
"Today, as we continue to redouble our effort  to build the New Seychelles, it remains totally relevant. It is for this reason that I have decided that 2013 will be placed under the same theme: "Striving for our Seychelles".  The New Seychelles we are creating together requires a continuous effort by all its children. We have laid the foundation but a lot more work is required so as to continue realizing our aspiration. Work is progressing well. We have to strive for the love of our country; with respect, compassion and solidarity for our fellow citizens," said the President. 
The President said that the life of a people is defined by the capacity to overcome difficulties, overcome obstacles, without giving up and that these abilities are what make us stronger as human beings and render us valiant as a people.  
"We are more united, more sympathetic towards one another, more patriotic, when we struggle for the wellbeing of our families; when we make a good gesture towards our neighbours who are in need; when we keep in mind the greater interests of our blessed country. We continue the patriotic march towards the building and strengthening of the New Seychelles.  We continue to safeguard and strengthen our fundamental values, mainly through the Social Renaissance movement. We continue to strengthen democracy and the democratic institutions in our country. We continue to bolster peace, order and security. We continue to boost our engagement in the social domain." 
The President urged everyone to seize all opportunities available to build a better future. 
"Life does not improve by chance. Progress comes from positive changes and hard work.    We have to sail away from the coast in order to discover new oceans, new horizons. Have courage. Have belief. Assume our responsibilities. Recognise the values and necessity of work. Accept that we have to work to earn our living. Stop depending on the state or other people for our needs when we are able to work.   However, the state will continue to help those who are truly in need, according to well defined criteria," said Mr. Michel.     
The President wished all Seychellois here and overseas a wonderful and happy New Year 2013. 
" I wish all residents and visitors in our country a happy New Year. May this year bring us all happiness and prosperity. We pray that God continues to bless our small country so that greater love, more unity and more harmony reign among us."
Editor's Note
Kreol: Travay Dir Pour Nou Sesel.
English: Striving for Our Seychelles.
Français: Travaillons Dur Pour Notre Seychelles.