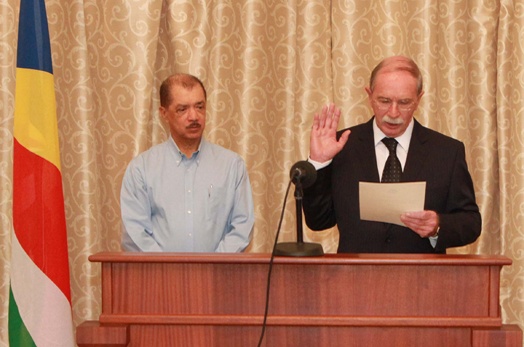 Justice Crawford McKee Sworn Into Office
Thu, 05 September 2013
President James Michel has appointed Mr. Crawford Elliott Mckee as a Puisne Judge of the Seychelles Supreme Court on the recommendation of the Constitutional Appointments Authority and as part of a three year programme of support by the Commonwealth Secretariat to the Seychelles Judiciary.
The President expressed his congratulations to Justice Mckee after he had taken his oaths and noted that with his expertise Justice Mckee will have an important contribution towards the capacity building of the Seychelles Judiciary and helping to improve its operational effectiveness.
In his remarks to the press, Justice Mckee said that one of his immediate tasks would be to help clear the backlog of court cases, and to contribute to the development of the Judiciary. He said that he was looking forward to the challenges ahead.
Justice Mckee is the 8th serving Judge of the Supreme Court of Seychelles.
He is a British citizen and has broad legal experience in Criminal and Civil matters.
He graduated from St. Andrews University of Scotland in 1965 with a Bachelor of Laws (L.L.B.) and became a solicitor in Scotland in 1967. He joined a private practice in Glasgow until 1974 when he started his career in government service overseas.
His first posting was in Seychelles in 1974 as a Magistrate.  Later he also served as Chief Magistrate in Seychelles until 1978.  Justice Mckee has had a distinguished career in the Judiciary in Scotland as well as overseas, where he has served in various posts such as Senior Crown Counsel, Acting Attorney General, Deputy District Court Judge, Stipendiary and Circuit Magistrate Judge.
Justice Mckee is a member of the Commonwealth Magistrates and Judges Association in London. He is a Notary Public in Scotland and a Member of the Law Society of Scotland.
Editor's Note:
•The ceremony was also attended by Vice-President Danny Faure, the Speaker of the Seychelles National Assembly, Honourable Doctor Patrick Herminie, the Attorney General, Mr. Ronny Govinden, the Chief Justice of the Supreme Court, Mr. Frederick Egonda-Ntende, the Chairman of the Constitutional Appointments Authority, Mr. Jeremie Bonnelame, Judges and  Justices of Appeal as well as Senior officials in the Office of the President.