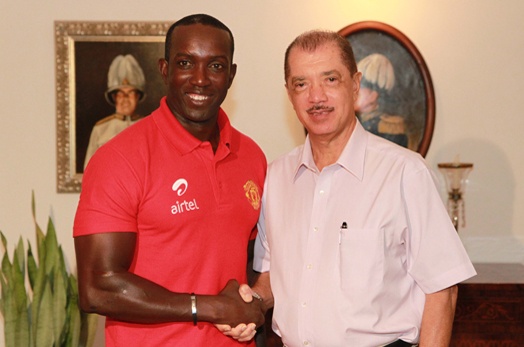 Another Stepping-Stone In Seychelles Football Development
Thu, 12 September 2013
President James Michel received the former player for Manchester United, Mr. Dwight Yorke, who is also the ambassador for the world-renowned club. Mr Yorke is currently on a three-day visit under the Airtel Rising Stars (ARS) programme at the invitation of Airtel Seychelles, this afternoon at State House. He was accompanied by the Development Officer at Manchester United, Mr. Michael Hitham.
President Michel welcomed him to Seychelles and conveyed his appreciation and gratitude for coming here.
"I hope that your visit here in Seychelles as a role model will be an inspiration to many of our young footballers who wish to further their potential in that sport. I would like you to encourage them and explain the necessity for hard work, discipline and dedication. These are good qualities that I wish you pass on to our youth as it will be good for them to espouse that and be able to become professional athletes like you one day," said President Michel, who is also the patron of the Seychelles Football Federation.
Several issues were discussed, amongst which was the promotion of the Airtel Rising Stars, a programme which was launched here by Airtel Telecom Services in July 2013 in partnership with Manchester United, the Seychelles Football Federation and Samsung Electronics which is the official device partner for the ARS programme. The programme in Seychelles (ARS) is aimed at offering two most talented Seychellois youths the opportunity to attend a top notch soccer clinic in the United Kingdom run by Manchester United Football Club. During the meeting, Mr. Yorke stressed that a key objective of Manchester United Club has been youth development and the programme is one of the ways to offer talented youths the opportunity and hope for success in the future.
The President hailed the initiative and underlined the importance of putting the youth at the centre of development for the future and allowing them to achieve their dreams.
In response Mr. Yorke said: "It is the discipline that I've developed throughout the years that have led to my success and I hope that I can pass on that message to the kids…There are so many doors and avenues that are open and with the relationship that we have built with the Airtel Rising Star, it's a great opportunity for kids to try and fulfill their dreams."
While in Seychelles, the Trinidad and Tobago national is expected to lead a series of soccer clinics for young Seychellois players aged 15 to 17 who are presently following the Airtel Rising Stars programme, visit the vocational training centre for the disabled at North East Point, have a series of talks with youths, meet the local media, attend the Airtel Cup final between Côte d'Or and St Michel among other programmes scheduled for him throughout his visit.
Editor's Note:
•          Also present during meeting were the Chief Executive Officer for National Sports Council, Ms. Giovanna Rousseau, Chairman of the Seychelles Footbal Federation, Mr. Elvis Chetty, Chief Executive Officer for Seychelles Football Federation, Mr. Jemmy Adela, Chief Executive Officer for Seychelles Airtel Telecom Services, Mr. Vikram Sinha and Airtel representative, Ms. Gail Talma.
•          Mr. Yorke's colourful career at United , after arriving from Aston Villa, saw him score 66 goals in 152 appearances. Towards the end of his career, he also played for Blackburn Rovers, Birmingham City, Sydney FC and Sunderland. He launched his career in football management when he served as the assistant manager of the Trinidad and Tobago national team during the 2010 FIFA World Cup qualifying matches. Yorke is currently an assistant coach for the Red Devils' reserves.
• The Airtel Rising Stars is an Africa-wide program that provides a platform for upcoming soccer talent under the age of seventeen to showcase their skills to leading scouts, coaches and have an opportunity to further their football skills.