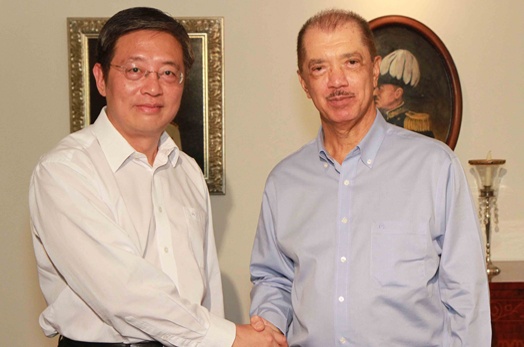 Boosting Business Between Seychelles And China
Thu, 31 October 2013
President James Michel met with the Vice-Mayor of Shanghai, Mr. Tu Guang Shao, this morning at State House. He was accompanied by the Ambassador of the People's Republic of China, Mr. Shi Zhongjun.

Mr. Tu and his delegation from the Shanghai Council for the Promotion of International Trade, which includes business leaders from different commercial sectors in Shanghai, are in the country to further promote and to foster stronger business ties between Seychelles and the People's Republic of China, in various fields such as fisheries, tourism and investment.

Mr. Michel extended a warm welcome to him and his delegation as well as wishing them success in their mission in Seychelles which he hopes will build further the friendship and collaboration that exist between Victoria and Shanghai.

"Thank you for bringing the delegation of business people here to look at the possibility of investing in Seychelles. I also welcome your signing of the Memorandum of Understanding with the Mayor of Victoria. This will open up many areas of collaboration and friendship which is very important in the development of relations between our two peoples," said President Michel.

The President and the Vice-Mayor spoke about the Seychelles-China Business meeting held between SIB and the Shanghai Council for the Promotion of International Trade this morning as well as their views on the potential for Shanghai and Victoria to develop further their economic ties.

Speaking to the local press after his meeting with the President, Vice-Mayor Tu said that business leaders accompanying him on this visit from various sectors in Shanghai had a very good foundation in trade and investment with many opportunities for future cooperation. He further explained that the MoU's that will be signed between the Mayor of Victoria and himself will further the cooperation between the two cities in more fields.

Present during the State House meeting were also the Secretary General of the Office of the President, Mrs. Lise Bastienne, the Principal Secretary of the Ministry of Foreign Affairs,  Ambassador Maurice Loustau-Lalanne, the Mayor of Victoria, Mrs. Jacqueline Moustache-Belle, as well as other officials from Seychelles and Shanghai.