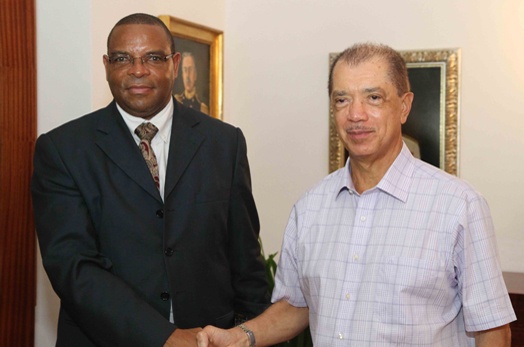 World Bank: Seychelles Economy Is Doing Well
Tue, 21 January 2014
President James Michel has met with the Executive Director of the World Bank for Africa Group 1, Dr. Denny Kalyalya, and the Alternate Executive Director, Mr. Peter Larose. Dr Kalyalya is on a familiarisation visit, following his recent election to the post of Executive Director, representing 22 countries of Africa, including Seychelles.
Dr Kalyalya said that the Seychelles economy is doing well and commended the Seychelles government for making employment opportunities available in the country. He said that Seychelles has a lot to share in terms of good governance with other World Bank member countries, particularly the success of its economic reform programme.
The President and Dr Kalyalya spoke about the need to boost World Bank programmes to increase support for Seychelles for technical expertise in various sectors as well as enabling access to climate change mitigation funds for Small Island Developing States.
Dr. Kalyalya will represent Seychelles on the Board of the World Bank, until October this year, when Dr Peter Larose, a Seychellois national, takes over this office.
Editor's Note
The meeting was also attended by the Minister for Finance, Trade and Investment, Mr. Pierre Laporte, the Secretary General of the Office of the President, Mrs. Lise Bastienne, as  well as Senior Advisor to the Executive Director, Mr. Anthony Barclay.