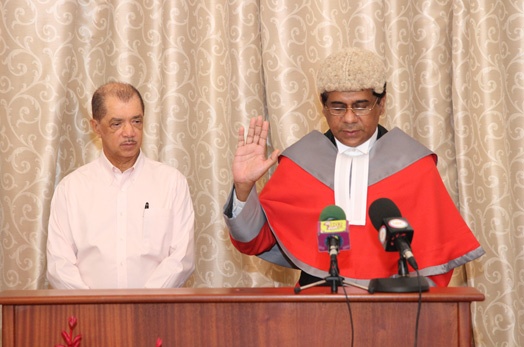 Justice Burhan sworn in as Puisne Judge
Wed, 12 February 2014
Mr Mohan Niranjit Burhan was sworn in again as a Judge of the Supreme Court this morning.  He took his official oaths before the President of the Republic, and in the presence of Chief Justice Fredrick Egonda-Ntende, the President of the Court of Appeal, Justice Francis MacGregor, the Speaker of the National Assembly, Hon Dr Patrick Herminie, the Attorney General, Mr. Ronny Govinden, Members of the Constitutional Appointments Authority, judges and other senior officials in the Judiciary and in the Office of the President.
In her introductory remarks at the ceremony, the Director for Cabinet Affairs in the Office of the President, Mrs. Florry Dubois noted that Mr Burhan had first worked in Seychelles as a Magistrate between 1996 and 2000.  In 2008, he returned to Seychelles and was appointed as an expatriate Judge of the Supreme Court of Seychelles for a five-year period.
He had served with devotion, and made a significant contribution to the development of the Judiciary; he had been made the Head of the Criminal Division of the Supreme Court.  He was strongly recommended by the Judiciary for a second expatriate contract, in exceptional circumstances, as provided for under Constitution of Seychelles.  However, during the course of the year, Judge Burhan had applied for, and successfully obtained, citizenship of Seychelles.  He was later recommended by the Constitutional Appointments Authority for appointment as a Judge of the Supreme Court, this time as a citizen of Seychelles.
Interviewed after his swearing-in ceremony, Justice Burhan told reporters, "I have been serving Seychelles for so long, and I intend giving my service much more because of my experience, and lot of years of service to give to the Seychelles,".
Judge Burhan graduated from the Sri Lanka Law College and later obtained a Master's Degree in Law from the University of Wales in the UK.  He has previously served as an Attorney at Law in various Districts of Sri Lanka as well as Magistrate, District Judge and High Court Judge in Sri Lanka.