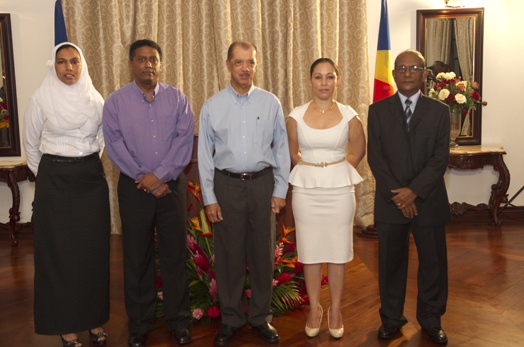 National Human Rights Commission sworn into office
Thu, 27 March 2014
The National Human Rights Commission Chairperson, Ms. Dora Zatte and its two members, Justice Ranjan Perera and Ms. Farzana Jumaye, were sworn into office at State House this morning.
The appointment of the chairperson and its members is in accordance with Section 3(9) of the Protection of Human Rights Act, 2009 for a four year tenure. They took their Oath of Allegiance to the Constitution and their Oath of Office in the presence of the President of the Republic, Mr. James Michel. The Commission was appointment by President Michel in consultation with the Chief Justice and the Speaker of the National Assembly.
The ceremony was attended by the Vice-President, Mr Danny Faure, the Deputy Speaker of the National Assembly, Honourable Andre Pool, the Chief Justice of the Supreme Court, Mr Frederick Egonda-Ntende, the President of the Court of Appeal, Mr Francis MacGregor, the Attorney General, Mr Ronny Govinden and other senior officials in the Office of the President.
The National Human Rights Commission was established by law under the Protection of Human Rights Act in 2009 for better protection and promotion of human rights in Seychelles.

The Commission comprises of three members, among them the chairperson of the Commission is the person appointed as the Ombudsman under article 143 (1) and the two other members should be a person who has been a Judge or is a barrister for more than five years standing or a person having knowledge of, or practical experience in matters relating to human rights.

In a press interview with the national media after the swearing-in ceremony, Ms. Dora Zatte said, "For this forthcoming mandate, we expect to see a more dynamic National Human Rights Commission. I welcome the appointment of the two members, I am sure that we're going to benefit from the expertise of Justice Perera who has served the judiciary for a long time and from Ms. Jumaye as well, who has worked in the legal field..."

"We hope within the coming years that we will see greater degree of commitment towards the funding of the Commission's activities. We intend to primarily deal with the allegations of human rights violations.... we have also other roles to play in educating and promoting human rights issues but for the time being our resources do not allow us to give maximum emphasis to all of these sectors, so we have to priorities our resources to where its most crucial and that is in investigation of allegations and breaches," she said.