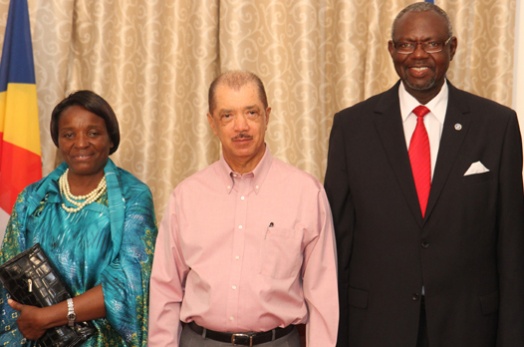 Justice Akiiki-Kiiza sworn in as the 09th Puisne judge
Mon, 05 May 2014
Justice Dan Akiiki-Kiiza has been sworn in as a Puisne Judge of the Seychelles Supreme Court, in the presence of President James Michel at State House this morning.
President Michel appointed Justice Dan Akiiki-Kiiza as a Puisne Judge on the recommendation of the Constitutional Appointments Authority as part of a three year programme of support by the Commonwealth Secretariat to the Seychelles Judiciary.
The President expressed his congratulations to Justice Akiiki-Kiiza after he had taken his oaths and noted that with his expertise Justice Akiiki-Kiiza will make a significant contribution towards the capacity building of the Seychelles Judiciary and in the improvement of its operations.
Justice Akiiki-Kiiza is the 9th serving Judge of the Supreme Court of Seychelles.He is a Ugandan citizen and most recently, he had been serving as the Judge of the High Court of Uganda.
He has had a distinguished career in the Judiciary in his native Uganda and overseas, where he has served as magistrate, senior magistrate, chief magistrate and inspector of the Courts of Judicature. In 1976 he graduated with a Bachelor of Laws degree from Makerere University and in 1977 he received a diploma in legal practice.
In his remarks to the press, Justice Akiiki-Kiiza said that one of his immediate tasks would be to help clear the backlog of court cases.  He said that he is looking forward to start his duties in doing his level-best in delivering justice to the people of Seychelles. He said he is ready to be impartial in following the law as well as evidence which will permit him to determine criminal and civil cases accordingly.
Editor's Note:
•The ceremony was also attended by Vice-President Danny Faure, the Speaker of the Seychelles National Assembly, Honourable Doctor Patrick Herminie, the President of the Court of Appeal, Honourable Justice Francis Macgregor, the Acting Chief Justice of the Supreme Court, Mr. Ranjan Perera, member of the Constitutional Appointments Authority,  Judges and  other senior officials in the Judiciary as well as Senior officials in the Office of the President.