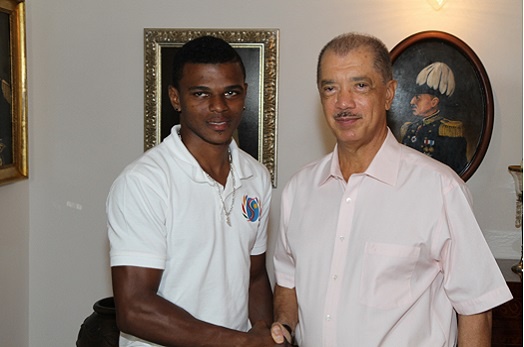 Support for talented sportsmen and sportswomen is a priority
Thu, 10 July 2014
President James Michel met this morning with a large sports delegation comprising of young athletes from the Boxing and Swimming Federations who won gold medals in African competitions recently and who are preparing for the Commonwealth Games in Scotland, which take place from 23rd July to 3rd august.
During the meeting at State House, Presient Michel presented his congratulations to Felicity Passon  and Kevin Quilindo who represented Seychelles at the Africa Youth Games. Kevin Kilindo won a gold medal in boxing and  Felicity Passon won two bronze medals in swimming and achieved the qualifying time for Olympic Youth Games which will take place in Nanjing, China in August this year.
The President also congratulated Andrique Allisop  and Keddy Agnes who won medals at the Africa Boxing Cup in South Africa. Mr Agnes won a bronze medal, while Mr Allisop won a gold medal. Earlier in May, Mr. Allisop had won a gold medal for the in boxing at the Limassol Cup held in Cyprus.
" You have achieved excellent results this year and have shown what an impressive team Seychelles has, while competing with strong nations in Africa. I am proud of you and wish you success in the Commonwealth Games, where I am sure you will give your best for your country….I fully support the development of the youth and sporting talent, it is a priority and we will ensure that you receive the support you need," said President Michel.
The Minister of Social Affairs, Community Development and Sports Vincent Meriton, the CEO of National Sports Council, Giovanna Rousseau, and the President of Seychelles Olympic and Commonwealth Games Association Antonio Gopal together with the  young athletes as well as their federation representatives,  spoke to the President about their plans for the future, the difficulties they encounter as well as the future needs of their sport.
"For us all athletes who are ready to work, who want to achieve international level sports, we are here for them, we guarantee that we will help them. What is most important is that these athletes want to reach that level and that they are ready to discipline themselves… to achieve the international level you have to be dedicated and have discipline," said Ms Rousseau, in an interview with local media.
Editor's note
Also present at the meeting were;
Mr. Hervey Anthony, Chairman, Seychelles Boxing Federation
Mr. Edmond Folette, Boxing Treasurer
Mr. Gerry Legras, Boxing Coach
Mr. Rival Payet, Boxing Coach
Mr. Kenny Roberts, Vice Chairman, Seychelles Swimming Association
Mr. Marcel Antat, Coach Swimming
Mr. Andrique Allisop- Boxer
Mr. Keddy Agnes- Boxer
Mr. Jovette Jean- Boxer
Mr. Kevin Quilindo- Boxer
Ms. Felicity Passon- Swimmer