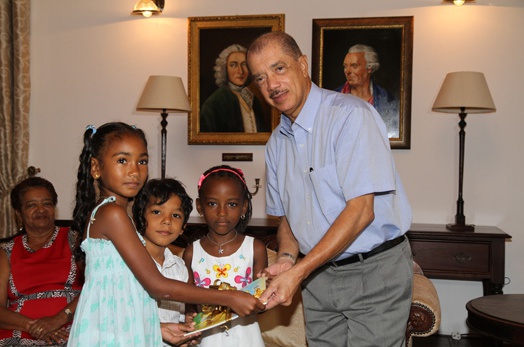 Early Childhood Aspirations for 2020 presented to President Michel
Mon, 25 August 2014
In a special ceremony held at State House this afternoon, President James Michel was presented with a book entitled 'Seychelles A Determined Island Nation: The Aspirations of Early Childhood Children' by  Andrea Matombe, crèche, year 2, Baie Lazare school, Liam Alexander, primary one, Independent school and Christie Sedgwick, primary 2, Takamaka school.
They all won first place in their category in the drawing and writing competitions under the theme 'Early Childhood Islanders Aspirations 2020+: Letter to the President', held in February this year, which coincides with this year's theme 'International Year of Small Island Developing States - Seychelles, a Determined Island Nation'.  This competition was an initiative of the Institute of Early Childhood Development (IECD).
During the meeting, the three children requested that this book with their aspirations is also brought to the UN Conference on Small Island Developing States scheduled to be held in Samoa this September.
"I am happy to receive you today....I welcome your aspirations expressed in this book that I will definitely bring with me to Samoa. I would like you to know and tell your friends that have participated in this competition, that I give my commitment to sharing your aspirations with other Heads of State attending the Conference and making sure that your wishes are also taken into consideration, so you can continue to enjoy your beautiful country, a better planet and a prosperous future," said President Michel while interacting with the three children.
The book consists of creative work of thirty-six early childhood finalists. It clearly depicts Seychelles as a small developing island nation, its challenges, accomplishments and aspirations. Through the drawings of the talented young islanders and accompanying letter, it shows strong aspirations for Seychelles in 2020 and beyond.The IECD has worked closely with the Ministry of Education, Ministry of Environment and Energy and other partners in the realisation of this booklet.
Present at the meeting was the Chief Executive Officer for Institute of Early Childhood Development, Mrs. Shirley Choppy, Director Programme Coordination, Dr Andre Leste, Technical Adviser Environmental Education in the Ministry of Environment and Energy, Mrs. Jeanette Larue and Senior Programme Development Officer, Mrs. Felicia Lafortune.