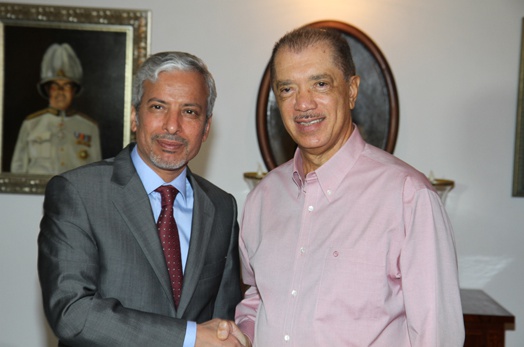 Kuwait Fund for Arab Economic Development plans more projects with Seychelles government
Tue, 18 November 2014
President James Michel met with the Deputy Director General of the Kuwait Fund for Arab Economic Development, Mr. Hesham Al-Waqayan at State House this morning.

President Michel welcomed the interest of the Kuwait Fund in engaging with Seychelles.

"It is the new beginning of our future collaboration and I am sure that we can work together and identify new projects... Our economy has strengthened over the years with our reform programme and we are actively continuing to maintain the discipline our fiscal framework, with a determination to remain on the road to progress and prosperity. I believe we can create a win-win partnership with the Kuwait Fund," said President Michel during the meeting.

The President and the Deputy Director General discussed past projects as well as the existing loan agreement signed this week.

The Kuwait Fund for Arab Economic Development and the Seychelles government signed a US 8.5 million loan agreement yesterday for the financing of the construction of a new School of Agriculture and Horticulture in Seychelles. 

The project was announced by the Fund in June this year, and part of the funds will be used for the rehabilitation La Rosiere Primary School, in Victoria.

In an interview with the local press following his meeting with the President, Mr Al-Waqayan said the the Kuwait Fund is happy with the relationship that it has established with Seychelles since 1985.

"We talked about the economy of the country... I reassured His Excellency that Kuwait will be a partner in this. The loan we signed yesterday is not going to be the last one. We are planning to have a meeting with the Minister of Finance of Kuwait to discuss future projects. We talked about a lot of projects but we have to define what will be our future projects. We talked about healthcare like hospitals as well as some agricultural projects," said the Deputy Director General of the Kuwait Fund for Arab Economic Development.

Also present in the meeting were the Minister for Finance, Trade and Investment, Mr. Pierre Laporte, the Diplomatic Adviser to the President, Ambassador Callixte d'Offay and Mr. Adulrahman Al-Hashim, Regional Manager for Central, East and South African countries.