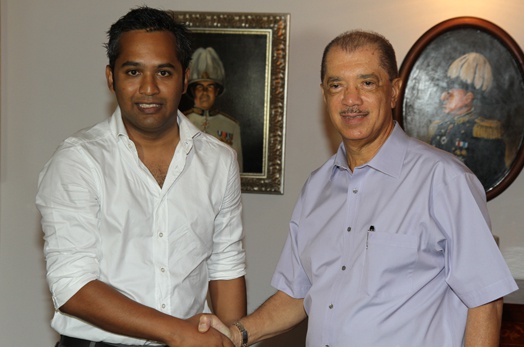 President Michel meets with SFF Chairman
Wed, 04 March 2015
President James Michel met with the Chairman of the Seychelles Football Federation (SFF), Mr. Elvis Chetty, at State House this morning.
President Michel commended the SFF for organizing youth football academies around the country where 800-1200 young people are taking part in 12 academies, where they train three times a week.
"The Government fully supports the SFF initiative to develop young sporting talent. It is an important sports programme that contributes to the social wellbeing of the community by giving young people skills in the sport, good exercise, discipline as well as keeping them away from negative social influences," said the President.
President Michel and Mr. Chetty also discussed the SFF's progress in the organisation of the upcoming CAF Beach Soccer Championships, to be hosted in Seychelles in April this year.
They also spoke about the development of SFF's cooperation with FIFA (Fédération Internationale de Football Association) and SFF's plans for developing infrastructure together with the private sector, for football fields in Seychelles.
President Michel is the Patron of the Seychelles Football Federation.