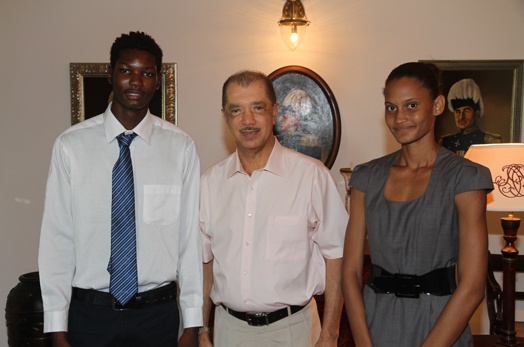 President Michel receives Seychellois Athletes who won golds at South African Open Athletic Championships
Tue, 19 May 2015
President James Michel received Ms. Lissa Labiche and Mr. Norris Brioche at State House today.  The two high jumpers won gold medals in the South African Open Athletic Championships, which was held in Potchefstroom. They were accompanied by the Minister for Community Development, Social Affairs and Sports, Mr. Vincent Meriton.

The President reiterated his heartfelt congratulations to them following his message to them last week saying how they have brought pride to their country. He commended both athletes for the excellent ranking internationally and expressed the government' full support to their preparation for the upcoming competitions.

"I urge both of you to continue with determination in your high jump discipline in order to make Seychelles have more recognition at the international level," said the President.

"I know that there will need to be a lot of sacrifices on your part if you want to succeed, it will not be easy but you need to work hard for achievements. Continue to be good role models for our young people and with perseverance and sacrifices you will achieve your goals," added the President.

During the meeting they briefed the President on the South African Open Athletic Championships as well as other upcoming competitions and preparations.
Speaking to the national media after the meeting, Mr. Brioche said, "I am very happy to have met the President. After the meeting I feel more motivated and he has inspired me to do better in my discipline, in order to achieve better results for myself and my country. My goal now is to have a better rank, I am aiming for 2.05 metres. I know it will not be easy but with concentration in my training I can make it," he said.
Now ranked best overall in the Indian Ocean, Ms. Labiche said that the meeting with the President shows his interest in sports and their professional development.
"I thank him for his continued support. We have discussed our next preparation for the Indian Ocean Games and targets as well as my participation at the forthcoming All Africa Games and the Rio de Janeiro Olympic Games. I would like to encourage all other athletes in various disciplines to train with determination and strive for achievements just like I have done. Keeping in mind that the Indian Ocean Games is near and we need to bring victory to Seychelles. Personally, my vision is to give my best for my country and win a medal either in the World Championship or the All Africa Games," concluded Ms. Labiche in the interview.