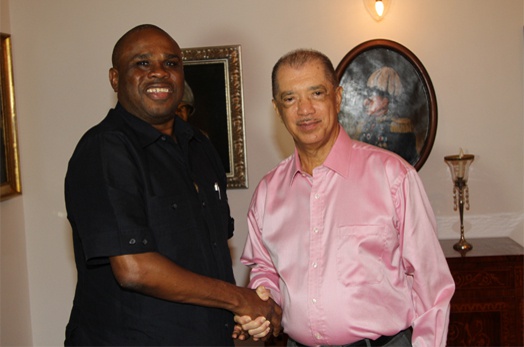 Seychelles President meets with Afreximbank President
Tue, 18 August 2015
President James Michel met with the President of the Afreximbank, Dr. Benedict Oramah, at State House this morning.
President Michel and Dr. Oramah spoke about the economic development of Seychelles and the great potential for investment in the country.
Dr Oramah said the Afreximbank would assist Seychelles through various programmes, including technical assistance and training as well as proposing mechanisms to boost entrepreneurship.
President Michel thanked Afreximbank for its support and said that the bank could play an important role in the development of small and medium enterprises (SME's) in the country.
"I believe in empowering our Seychellois SME's and giving them the tools to grow. Afreximbank has incubation strategies which can greatly assist our entrepreneurs," said President Michel during the meeting.
Dr. Oramah said the Afreximbank is committed to supporting Seychelles' Blue Economy and would work towards increasing cooperation in this area.
"Right now the Seychelles economy is doing very well …So what I want to do is to thank his Excellency the President for the support and also to express the support of the bank for the good work that has been done. We are looking at several initiatives especially to work with the Ministry of Finance, the Central Bank of Seychelles and other agencies, to develop a Blue Economy strategy which we will support…. that would be directed at making Seychelles even more important globally as a financial centre to support the group of small and medium enterprises. The idea is to work to incubate SME's so that they have access to finance," said Dr. Oramah in a press interview after his meeting with the President.
The meeting was attended by the Minister for Finance, Trade and the Blue Economy, Mr. Jean-Paul Adam, the Governor of the Central Bank of Seychelles, Ms. Caroline Abel and the President's Diplomatic Adviser, Ambassador Callixte D'Offay.