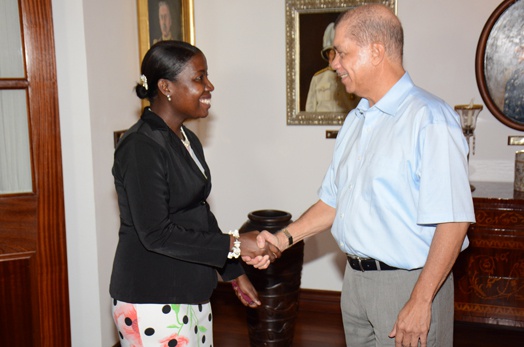 "You make Seychelles proud," President Michel tells UniSey Honours graduates
Fri, 22 January 2016
President James Michel received five first-class Honours graduates from the University of Seychelles (UniSey) at State House yesterday morning.  All of them have received the First Honours for their first degree and are currently gainfully employed.
The President congratulated them for their success in their exams and wished them success in their professional career.
"I am very proud of you and the outstanding results you have received. You have seized the opportunities available and made your country proud. I have always believed in you, in the youth, and as you are our future. That is why I put emphasis on the value of education... You must continue to make Seychelles proud and I know that we can count on you to contribute to the development of your country," said President Michel to the graduates in their meeting.
The graduates spoke to the President about their pride at their educational achievements and their professional progress. They also expressed their gratitude at the opportunity given to them to complete their university education on home soil, giving the opportunity for some of them to be the first university graduate in their family and a role model for their peers and the next generation.
Stating that "if we can do it, anyone can do it regardless of our background", they underlined their determination to be ambassadors of UniSey so as to encourage more young Seychellois to pursue their studies at the local university.
President Michel reiterated his satisfaction at the success of UniSey, that the objective of "each family, one graduate" is being realised and that a degree from the local university opens many professional doors to the graduates. He reminded the Honours students that access to education was a great challenge in his days and that he has worked hard to facilitate access to higher education for all. His personal experience has been one of the inspirations for the creation of UniSey, so that future generations would not go through the experiences he had, but instead had the chance to develop themselves to their full potential.
As part of their reward, the graduates have been offered a 3-day stay in Abu Dhabi as part of the partnership between UniSey and Air Seychelles-Etihad Airways partnership and the opportunity to pursue their studies at Masters level.
Also present during the meeting was the Vice Chancellor of UniSey, Professor Dennis Hardy and the Registrar of UniSey, Mr. Michel Denousse.
The Five Honour Graduates from UniSey are:
·         Samita Dodin – BSc Business Administration with International Business
·         Amanda Rene – BSc Business Administration with International Business
·         Tira Simeon – BSc Business Administration with International Business
·         Tamara Barra - Licence de Français
·         Siddhanth Mathur  - ACCA Affiliate
To note that a sixth Honour graduate has already left for further studies.
Annabelle Constance - BSc Environmental Science - a University of Seychelles Programme.  She is currently following her MSc in Environmental Science at the University of Zurich.
Editor's Note
For more photos see: https://web.facebook.com/StateHouseSey/posts/961301633937788