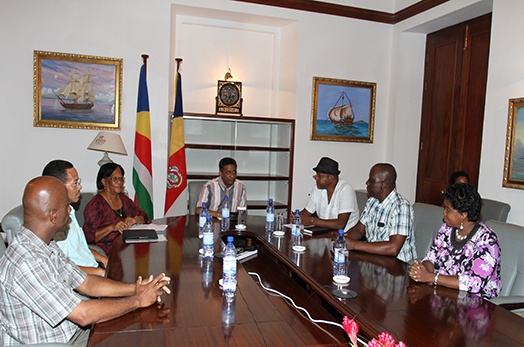 President Danny Faure Meets with Chairpersons of Arts Associations at State House
Thu, 03 November 2016
President Danny Faure met with chairpersons of various arts associations at State House yesterday.
The meeting had representatives of various art forms including music, theatre, poetry and visual arts. Artists present included Jean-Marc Volcy from SeyMas representing the Music Committee, Bertin Telemaque representing the Praslin Music Committee, Danny Sopha from SeyLar representing the Visual Arts Committee, Marie Clarisse from Lardwaz representing the Writers Committee, and Angelin Marie from TAS the Theatre Working Committee.
During his discussion with the representatives, President Faure highlighted how arts associations can work together with the government to promote a greater sense of unity and peace in Seychelles.
During the meeting, the representatives of the different art forms had the opportunity to discuss with President Faure the various challenges currently being faced by local artists in the industry. Points that were discussed included financing, publicity of local artists through local broadcast media such as SBC, international exposure for local artists as well as the positive use of the different art forms to address social ills that exist in society.
President Faure described arts and culture as the 'soul' of a society and promised to effect measures that will ensure current and future generations appreciate and respect local professional artists. These will include greater collective efforts to popularize artists and their work and the institution of the right structures to ensure arts and culture continue to flourish in Seychelles.
"Regardless of our views, backgrounds or interests, above all we should focus on common things that unite us and promote peace. Our culture must remind us all that in the end we are all Seychellois," said President Faure.
President Faure affirmed his support for the broadening of various art forms at community level so as to further engage youths and all people to cultivate a sense of appreciation for the Seychellois culture.
Also present at the meeting was the Deputy Cabinet Secretary, Mrs. Jeanne Simeon.